Introducing MagicMount™ Charge, Qi Wireless Charging Magnetic Mounts for vehicles and home/office. The MagicMount Charge combines the magnetic mounting effectiveness of the #1 Mount Brand in the U.S. with the latest Qi 15W wireless charging technology to allow you to mount and charge Qi-enabled smartphones, cases, receivers, transmitters and battery covers without the need to connect your device to the charger via a USB charge and sync cable. Experience the freedom of wireless!
What is Qi (pronounced "chee") wireless charging anyway?
First off, it's the global standard for smartphone wireless charging. Wireless charging functionality is finding its way into millions of devices. Wireless charging uses electromagnetic fields to safely transfer power from a transmitting source (in this case the MagicMount Charge unit) to a receiving device (built into Qi-enabled smartphones or available as an add-on via battery covers, receivers and more) for the purpose of wirelessly charging the device's battery.
Scosche has combined the latest Qi wireless charging technology with our #1 Mount Brand in the U.S. for the ultimate solution in hands-free magnetic mounting and wireless charging.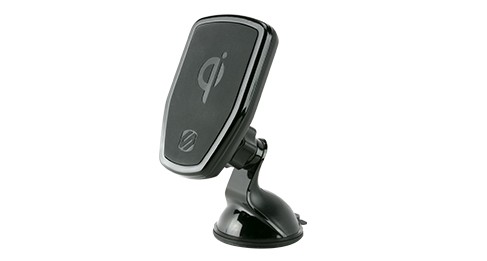 Super-fast wireless charging without the charge & sync cable
These wireless magnetic charging mounts deliver up to a blazing 15W** of charging power, three times the charge power of most wireless charging products so your Qi-enabled devices get charged up quickly.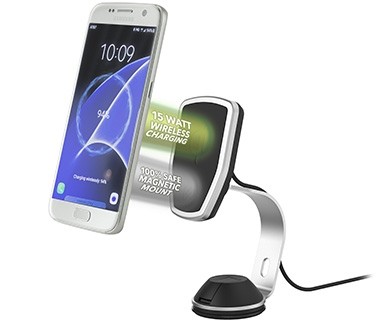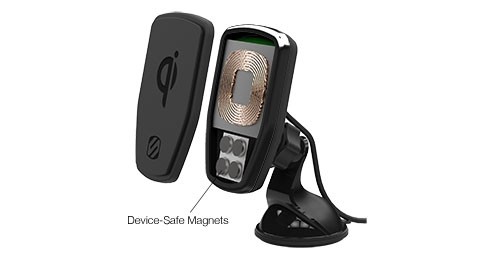 Powerful 100% Device Safe Magnets Ensure a Strong Hold
Not only do these wireless magnetic charging mounts deliver up to a blazing 15W** of charging power, they also provide solid hold for mounted mobile devices via powerful, rare-earth, neodymium magnets.
Click Here for optimal MagicPlate placement on Qi enabled devices
Works with a wide array of Qi-enabled devices from leading manufacturers
If you have a Qi-enabled device, MagicMount Charge works with it. From Qi-enabled smartphones from Apple®, Samsung™, Google™, Microsoft™, LG™, HTC™ and Motorola™, Sony® and Blackberry® and now the new iPhone models as well, to Qi-enabled cases, receivers, transmitters and battery covers.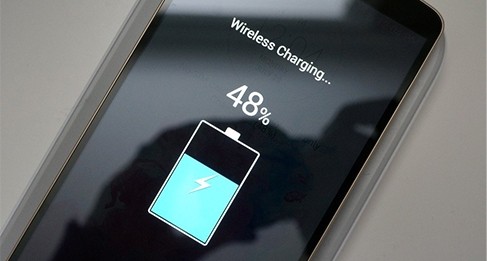 MagicMount™ Charge Products
Other Wireless Charging Products
Wireless Charging Universal Window/Dash Mount

Learn More
MAGICPLATE™ Placement Options
The MAGICPLATE™ Magnetic Mount System used powerful, 100% mobile device safe, magnets to safely, quickly and firmly mount your mobile device via the application of a small, non-magnetic, adhesive-backed, metal MagicPlate. MagicPlates come in several sizes and depending upon which MAGICPLATE™ you purchase, you may get more than one MagicPlate in a couple of sizes. ​
There are several ways to utilize/apply the MagicPlate with your mobile device.
Directly to the back of the case
Directly to the mobile device
Between the device and case (should you be using one) - either with or with out using the adhesive
Instructions for applying the MagicPlate that came with your MAGICMOUNT™
---
Wireless Charging Devices
It is important to mount the MagicPlate in the proper location on these devices to avoid interfering with wireless charging functionality. We have created a MagicPlate Template Guide to assist wireless phone users who plan to use their device with our MagicMount Charge products or other Scosche wireless chargers.
* The MagicMount is not recommend with use of a wallet case.
PLACEMENT TEMPLATE PDF
---
---
Protect your device when directly applying MagicPlate to your device
MagicMounts MagicMounts come with a protective plastic film ​sticker ​in the box. This film should ALWAYS be used when you are applying the MagicPlate directly to your mobile device using the adhesive​ based MagicPlate​. ​Doing this will aid in the ease of removal of the MagicPlate should you wish to do that in the future. We have created a short video to show you how to properly apply the plastic film followed by the MagicPlate.
checking...