10" Sealed Single Subwoofer Enclosure
_" Medium density fiberboard front baffle
Recessed side panels for easy lifting
100% Sealed joints
Pre-cut 9" diameter hole
Nickel plated spring loaded speaker terminals
Pre-wired with fast-on terminals
Poly fiber lining damper
.75 cu. ft. internal volume


Scosche enclosures are CARB Compliant and constructed of 3/4" MDF with a poly fiber damper lining, and nickel plated spring terminals. All boxes are carpeted with a standard Grey/Black trunk liner for maximum durability and come plastic wrapped with color packaging cards to repel dusts and dirt.

Length
14 7/8"
Width
14 1/2"
Height
13 1/2"
10" Subwoofer Enclosure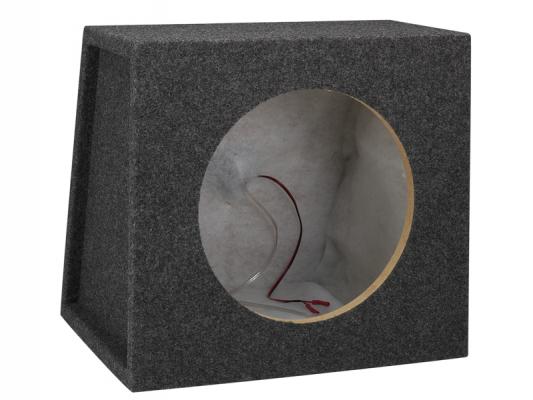 Features _" Medium density fiberboard front baffle
Recessed side panels for easy lifting
100% Sealed joints
Pre-cut 9" diameter hole
Nickel plated spring loaded speaker terminals
Pre-wired with fast-on terminals
Poly fiber lining damper
.75 cu. ft. internal volume


Scosche enclosures are CARB Compliant and constructed of 3/4 MDF with a poly fiber damper lining and nickel plated spring terminals. All boxes are carpeted with a standard Grey/Black trunk liner for maximum durability and come plastic wrapped with color packaging cards to repel dusts and dirt.

Length
14 7/8"
Width
14 1/2"
Height
13 1/2