PowerVolt 18W Qualcomm Quick Charge
PowerVolt 18W Qualcomm Quick Charge 3.0 and 12W USB Dual Port Fast Car Charger
Sale
$9.99
Regular Price
$14.99
• Delivers fast charge speed to get your Qualcomm 3.0 equipped device up to an 80% charge in just 35 mins versus 16% with a conventional charger.
• Our charger has been certified by Qualcomm to work flawlessly with all Qualcomm quick charge devices.
• The USB charging port will give you the fastest 12-Watt charging speed possible, making it ideal for iPhones, iPads, iPods, Galaxy's and other devices.
• One 18W Quick Charge 3.0 port and one 12W standard USB Type-A port provides enough power to charge 2 of today's latest smartphones and tablets.
• The charger works with Samsung Galaxy S8, S8+, S7, S7+, S6+, Samsung Edge, Qualcomm 3.0, Qualcomm 2.0, iPhone, iPad, Android, Qi Wireless Chargers or standard USB devices.
Features
The Scosche CA2A8QC-SP dual-port car charger is the ultimate solution for charging any USB device with Qualcomm 3.0, Qualcomm 2.0, iPhone, iPad, Android, Qi Wireless Charger or standard USB from your car. The fast charge rates mean less time tethered to your charger and more mobility for you.
The built-in circuitry protects your device from overcharging and overheating. The sleek design on this charger looks great inside your vehicle and fits inside the 12V vehicle power outlet.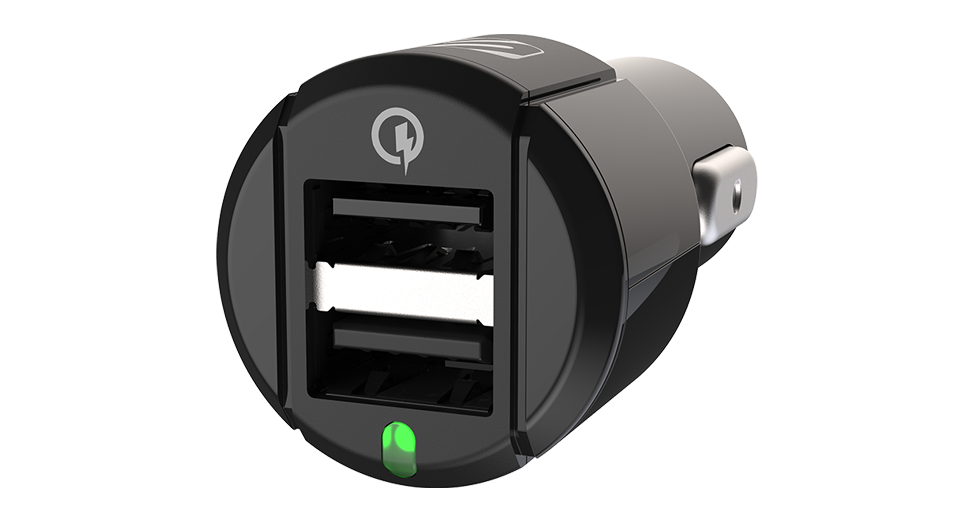 Specs
(1) 18W USB
(1) 12W USB
Quick Charge
Smart Phone
And most Android Smartphones with USB-C ports
Tablet
And most Android Devices with USB-C ports