1982-05 General Motors Stereo Install Dash Kit
• Allows aftermarket stereo to be installed in factory location • Precision designed for a gapless fit between the dash and the kit • Color and Texture matches the factory dash • High quality automotive grade ABS construction • Easy to install. No special tools are required. Includes step-by-step instructions
General Motors Dash Kit | Dash Kits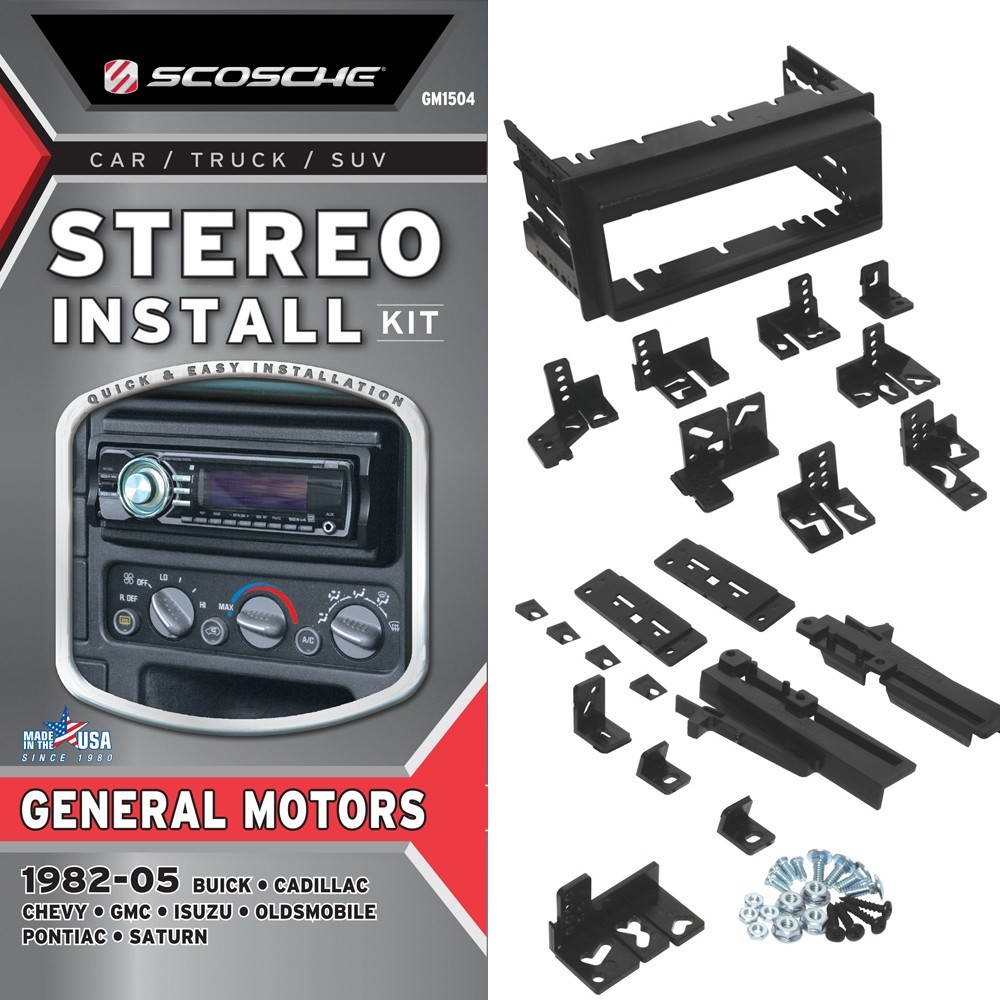 Features
Works with: Buick - Cadillac - Chevy - GMC - Isuzu - Oldsmobile - Pontiac - Saturn

This dash kit allows you to replace your vehicle's factory stereo to improve the overall sound quality of your car audio system. The GM1504 has been designed with high quality automotive grade ABS plastic to match the texture of your factory dash.

Installation of this kit is simple. No special tools are required and the included step-by-step instructions will guide you through the install.

Click on the documents" tab to check for detailed installation instructions and a list of compatible vehicles.
Specs
Easy-to-follow, illustrated, step-by-step instructions, Heavy duty mounting panel, No dash modifications, For all types of stereos: DIN and Removable Face, High quality automotive grade ABS plastic, Factory style texture, No special tools required
The GM1504 is compatible with the following Vehicles:
BUICK CENTURY 1982 to 1996 BUICK ELECTRA 1984 to 1990 BUICK LE SABRE 1986 to 1994 BUICK PARK AVENUE 1984 to 1994 BUICK REGAL 1984 to 1987 BUICK RIVIERA 1984 to 1995 BUICK ROADMASTER 1991 to 1994 BUICK SKYHAWK 1982 to 1989 BUICK SKYLARK 1983 to 1995 BUICK T-TYPE 1984 to 1987 CADILLAC CIMARRON 1982 to 1988 CADILLAC DEVILLE 1985 to 1991 CADILLAC ELDORADO 1984 to 1991 CADILLAC ESCALADE 1999 to 2002 CADILLAC ESCALADE EXT 2002 to 2002 CADILLAC FLEETWOOD 1985 to 1992 CADILLAC SEVILLE 1984 to 1991 CHEVROLET ASTRO 1985 to 2005 CHEVROLET AVALANCHE 2001 to 2002 CHEVROLET BERETTA 1991 to 1996 Standard CHEVROLET BLAZER FULLSIZE 1989 to 1991 CHEVROLET BLAZER S-10 1982 to 2001 CHEVROLET C/K PICKUP FULLSIZE 1995 to 1998 CHEVROLET CAMARO 1982 to 2002 CHEVROLET CAMARO 1993 to 1996 With Bose CHEVROLET CAMARO 1993 to 1996 Without Bose CHEVROLET CAMARO 1997 to 1997 RS/Z28 CHEVROLET CAMARO 1998 to 2001 LS/Z-28 CHEVROLET CAPRICE CLASSIC 1991 to 1996 With Bose CHEVROLET CAPRICE CLASSIC 1991 to 1996 Without Bose CHEVROLET CAVALIER 1982 to 1985 STD CHEVROLET CAVALIER 1986 to 1999 RS/Z24 CHEVROLET CELEBRITY 1982 to 1990 CHEVROLET CITATION 1985 to 1985 CHEVROLET CORSICA 1991 to 1996 CHEVROLET CORVETTE 1984 to 1989 Non Bose CHEVROLET CORVETTE 1984 to 1989 With Bose Audio CHEVROLET CORVETTE 1997 to 2004 CHEVROLET CREWCAB/DUALLY 1989 to 1999 CHEVROLET EL CAMINO 1986 to 1987 CHEVROLET EXPRESS VAN 1996 to 2000 CHEVROLET IMPALA SS 1994 to 1996 CHEVROLET LUMINA 1990 to 1994 Z-34 W/Bose CHEVROLET LUMINA 1990 to 1996 APV Minivan CHEVROLET LUMINA 1990 to 2001 Sedan CHEVROLET MALIBU 1997 to 2000 CHEVROLET MONTE CARLO 1986 to 1999 CHEVROLET NOVA 1985 to 1988 CHEVROLET S-10 PICKUP 1982 to 2002
CHEVROLET SILVERADO 1500-3500 1999 to 2002 CHEVROLET SUBURBAN 1989 to 2002 CHEVROLET TAHOE 1995 to 2002 CHEVROLET VAN 1988 to 1995 CHEVROLET VENTURE 1997 to 1999 GMC ENVOY 1998 to 2001 GMC JIMMY 1989 to 1991 GMC JIMMY S-15 1982 to 2001 GMC PICKUP FULLSIZE 1995 to 1998 GMC PICKUP S-15 1982 to 1993 GMC PICKUP/CREWCAB/DUALLY 1989 to 2000 GMC SAFARI 1985 to 2005 GMC SAVANA 1996 to 2000 GMC SIERRA 1500-3500 1999 to 2002 GMC SONOMA 1998 to 2001 GMC SUBURBAN 1989 to 1999 GMC VAN 1988 to 1995 GMC YUKON 1995 to 2002 GMC YUKON 1999 to 1999 DENALI GMC YUKON XL 2000 to 2002 ISUZU HOMBRE 1998 to 2000 OLDSMOBILE 88 ROYALE 1987 to 1991 OLDSMOBILE ACHIEVA 1992 to 1995 OLDSMOBILE BRAVADA 1991 to 2001 OLDSMOBILE CUTLASS CALAIS 1985 to 1987 With Delco Bose OLDSMOBILE CUTLASS CALAIS 1985 to 1991 Non Bose OLDSMOBILE CUTLASS CIERA 1982 to 1996 OLDSMOBILE CUTLASS SUPREME 1984 to 1994 OLDSMOBILE DELTA 88 1985 to 1988 OLDSMOBILE EIGHTY-EIGHT 1989 to 1993 OLDSMOBILE FIRENZA 1982 to 1988 OLDSMOBILE NINETY-EIGHT 1984 to 1993 OLDSMOBILE OMEGA 1983 to 1984 OLDSMOBILE SILHOUETTE 1990 to 1999 OLDSMOBILE TORONADO 1982 to 1989 OLDSMOBILE TOURING SEDAN 1989 to 1993 PONTIAC 6000 1982 to 1991 PONTIAC BONNEVILLE 1987 to 1999 PONTIAC FIERO 1984 to 1988 PONTIAC FIREBIRD 1982 to 2003 PONTIAC GRAND AM 1985 to 2000 PONTIAC GRAND PRIX 1992 to 1999 PONTIAC J-2000 / 2200 1982 to 1983 PONTIAC MONTANA 1997 to 1999 PONTIAC PARISIENNE 1985 to 1986 PONTIAC SUNBIRD 1984 to 1988 PONTIAC SUNFIRE 1995 to 1999 PONTIAC TRANS SPORT 1990 to 1999 SATURN SC/SL/SW SC2/SL2/SW2 1991 to 1994 SC2/SL2/SW2