1984-Up Universal Car Stereo Connector for select vehicles
• Connects an aftermarket car stereo to the factory radio harness.
• Not compatible with factory amplified amp systems.
• Direct Connection to the factory wiring harness without cutting any wires.
• The wire and connectors on the car stereo wiring harness are manufactured with factory quality materials.
Car Stereo Connectors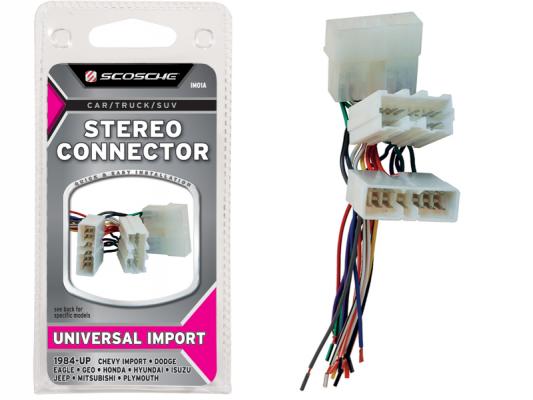 Features
1984 - Up Universal Car Stereo Connector for select vehicles

Chevrolet
1998-99 Metro
1998-99 Prizm
1985-88 Spectrum
1985-88 Sprint
1998-99 tracker


Dodge
1976-88 Colt
1995-96 Stealth

Eagle
1995-98 Talon

Geo
1989-97 Metro
1993-97 Prizm
1990-93 Storm
1989-97 Tracker

Honda
1994-95 Passport

Hyundai
1986-89 Excel

Isuzu
1989-94 Amigo
1985-90 I Mark
1990-93 Impulse
1990-95 Pickup
1991-95 Rodeo
1991-93 Stylus
1984-94 Trooper

Jeep
1988-96 Cherokee
1988-92 Comanche
1988-92 Grand Wagoneer
1988-96 Wrangler

Mitsubishi
1995-99 3000 GT
1997-04 Diamante
1995-up Eclipse/ Eclipse Spyder
2004-up Endeavor
1994-up Galant
2003-up Lancer/Evo
1997-03 Mirage
1987-88 Mirage
2000-06 Montero
1997-04 Montero Sport
2003-06 Outlander
1987-89 Precis

Plymouth
1987-88 Colt
The IM01A is compatible with the following Vehicles:
CHEVROLET METRO 1998 to 1999 CHEVROLET PRIZM 1998 to 1999 CHEVROLET SPECTRUM 1985 to 1988 CHEVROLET SPRINT 1985 to 1988 CHEVROLET TRACKER 1998 to 1999 DODGE COLT 1976 to 1988 DODGE STEALTH 1991 to 1996 EAGLE TALON 1995 to 1998 GEO METRO 1989 to 1997 GEO PRIZM 1993 to 1997 GEO STORM 1990 to 1993 GEO TRACKER 1989 to 1997 HONDA PASSPORT 1994 to 1995 HYUNDAI EXCEL 1986 to 1989 ISUZU AMIGO 1989 to 1994 ISUZU I MARK 1985 to 1990 ISUZU IMPULSE 1990 to 1993 ISUZU PICKUP 1990 to 1995 ISUZU RODEO 1991 to 1995 ISUZU STYLUS 1991 to 1993
ISUZU TROOPER 1984 to 1994 JEEP CHEROKEE 1988 to 1996 JEEP COMANCHE 1988 to 1992 JEEP GRAND WAGONEER 1988 to 1992 JEEP WRANGLER 1988 to 1996 MITSUBISHI 3000 GT 1995 to 1999 MITSUBISHI DIAMANTE 1997 to 2001 ES/LS MITSUBISHI DIAMANTE 2002 to 2003 MITSUBISHI ECLIPSE 1995 to 2006 MITSUBISHI ECLIPSE/SPYDER 2007 to 2012 MITSUBISHI ENDEAVOR 2004 to 2011 Without Heated Seats ONLY MITSUBISHI GALANT 1994 to 2012 MITSUBISHI LANCER 2002 to 2002 MITSUBISHI LANCER/EVO 2003 to 2006 MITSUBISHI MIRAGE 1987 to 2003 MITSUBISHI MIRAGE 1997 to 2001 DE/LS MITSUBISHI MONTERO 2000 to 2001 MITSUBISHI MONTERO SPORT 1997 to 2003 MITSUBISHI OUTLANDER 2007 to 2013 MITSUBISHI PRECIS 1987 to 1989 PLYMOUTH COLT 1987 to 1988