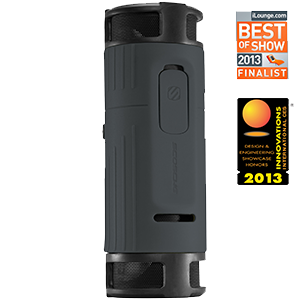 Weatherproof Sport Wireless Media Speaker
This Bluetooth speaker fits right in your bicycle water bottle cage, letting you rock out while you ride. Dual omni-directional speakers with 40mm drivers and a passive subwoofer give you premium sound quality loud enough to give you a soundtrack for your workout. Enjoy up to 10 hours of battery life from this IPX4 rated weatherproof speaker that won't be damaged from a little mud, rain or other elements. boomBOTTLE also stands or rests on any surface to give you the perfect media speaker for BBQs, parties or other gatherings. Control your music right from the boomBOTTLE (volume up/down, track control, play/pause) and never miss a beat. SET YOUR MUSIC FREE.
---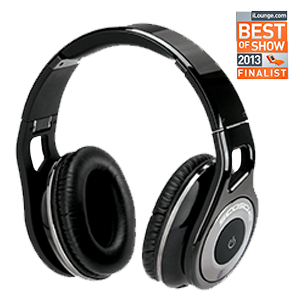 Bluetooth Wireless Reference Grade Headphones
With incredibly clear sound, the RH1060 headphones provide a premium listening experience. Connect to your iPod, iPhone, iPad or other A2DP enabled device and enjoy your music without any cables. Control your music and more right from the headphones (volume up/down, track control, play/pause) or enjoy handsfree conversations. 33 feet of wireless range will give you just the freedom you need to experience sound in a whole new REALM. These comfortable headphones have been designed with viscoelastic memory foam that softens and conforms to your unique ear shape. It's time to CUT THE CORD.
---
Wireless Armband Pulse Monitor
RHYTHM attaches to your forearm and measures your pulse in real-time to help monitor your workout. This lightweight armband pulse monitor wirelessly connects to your smart device via Bluetooth to keep track of your pulse, distance, pace, speed, calories burned and more while adding a new dimension to your workout. The RHYTHM App allows you to share workouts (Twitter, Facebook, Email and more), retrace your steps in the map view, customize home screen stats and much more. RHYTHM gives you up to 6 hours of workout use on one charge and is resistant to sweat or other moisture. FIND YOUR RHYTHM.
---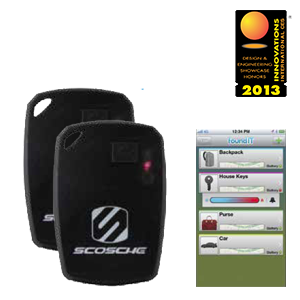 Wireless Item Locator
Locate and find your valuables with foundIT - the wireless item locator. With an ultra-slim design, foundIT attaches to keys, your purse and more to help keep track of items. It connects to your device via Bluetooth Smart technology and gives you loss prevention alerts (audio and pop-up notifications). Out of Bounds mode alerts you as soon as your item moves out of a set range of 30, 60 or 90 feet. Select GPS Snapshot mode to locate your vehicle in a crowded parking lot. Tag Alert mode will ensure that you never forget your laptop at home again. foundIT includes 2 tags that can be attached to your valuables (up to 6 tags can be paired with your device at a time). SEARCH, LOCATE, RELAX.
---
Car Stereo Receiver with Wireless App Control
Remotely control your stereo with the controlFREQ App and Car Stereo Head Unit. Download controlFREQ to your iPod, iPhone or Android Smartphone to stream music wirelessly, easily switch between sources, adjust EQ and more. The Car Stereo Head Unit includes a built-in mic for convenient Bluetooth handsfree phone calls and easily accessible USB and AUX inputs for connecting almost any type of media. TAKE CONTROL.
---
Rugged Impact Protective Case for iPhone 5
RAILkase combines symbiotic protection with a visually stunning design for the ultimate iPhone 5 case. An aircraft grade aluminum rail protects the device from blunt force while the soft silicone interior absorbs impact. It has been engineered with an ergonomic shape that rests comfortably and safely in your hand. DESIGNED TO PROTECT.