MagicPlate™ Kit for iPhone
Metal Plates for Apple® iPhone 6 and 7 & iPod Touch and Apple's Smart Battery Case
• Large MagicPlate is compatible with the Apple® Smart Battery Case
• Small MagicPlate is compatible with an iPhone 6, iPhone 6S, iPhone 7, iPhone 7S or iPod Touch
• Use with any Scosche MagicMount system
• Soft touch finish matches the look and feel of the Apple® Smart Battery Case and minimizes fingerprinting
• Not recommended for Wireless Charging Devices
Includes: (1) Large Rectangular MagicPlate, (1) Small Rectangular MagicPlate, Protective Film and (2) Alcohol prep wipes.
Smart Battery Case Mount

Features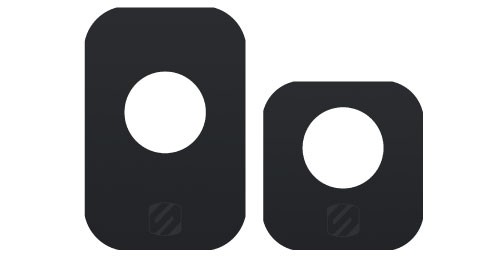 Includes 2 MagicPlates™
The large plate maximizes magnetic hold with the Apple Smart Battery Case and the small plate is ideal for the iPhone and iPod Touch.
The Scosche MPIPRK-SP MagicPlate Kit is the perfect solution for replacement plates for securing an iPhone 6 iPhone 7 or iPod touch device to any Scosche MagicMount or MagicMount Pro. The uniquely designed large MagicPlate is compatible with an iPhone 6 or 7 using an Apple Smart Battery Case. No Apple Smart Battery Case no problem! The smaller MagicPlate is perfect for use on your iPhone 6 7 or iPod Touch device without an Apple Smart Battery Case. Easy to install just place the large MagicPlate behind your Apple Smart Battery case or the small MagicPlate behind your protective case/battery cover on the outside of the case or directly to your device. Use the alcohol prep wipes to clean the surface before installing the plates. The 3M adhesive on the plate ensures a strong bond. Includes one large rectangular MagicPlate one small rectangular MagicPlate and two alcohol prep wipes.
Smart Phone
And most Android Smartphones