Scosche 200 Lumen Flashlight
200 Lumens 12-inch Rugged LED Water-Resistant Flashlight
Part Number
SCOLGHT3-RPSP1
• 12-INCH LED FLASHLIGHT WITH 200 LUMENS: The 12-inch Scolight is the perfect LED flashlight which makes it easy to store and take along with you, so that you have a powerful and compact flashlight any time that you need it. It has 200 lumens to provide you with a strong and bright source of light.

• IPX4 WATER-RESISTANT WITH ADJUSTABLE BEAM: Our flashlight is water-resistant and rated with IPX4 certification to keep it safe if it gets wet. It also has an adjustable beam to find the ideal light angle.

• RUGGED IMPACT RESISTANT DESIGN: This flashlight is built strong with our rugged, impact resistant outer shell to handle impacts from up to 3 feet/1 meter high. It's optimized for outdoor use.
Features
ScoLight 200
The Scosche SCOLGHT3-RPSP1 ScoLight 200 lumens 12-Inch rugged LED water-resistant flashlight with an adjustable beam is the perfect flashlight which you can count on to shine some light anytime you need it most. Its size makes it easy to store or carry along with you. It has 200 lumens to provide you with a strong and bright source of light. Our flashlight is water-resistant and rated with IPX4 certification to keep it safe if it gets wet. It also has an adjustable beam to find the ideal light angle. This flashlight is built strong with our rugged, impact resistant outer shell to handle impacts from up to 3 feet/1 meter high. It's optimized for outdoor use. The Scolight 200 takes 3 x D batteries to power it (Batteries are Sold Separately)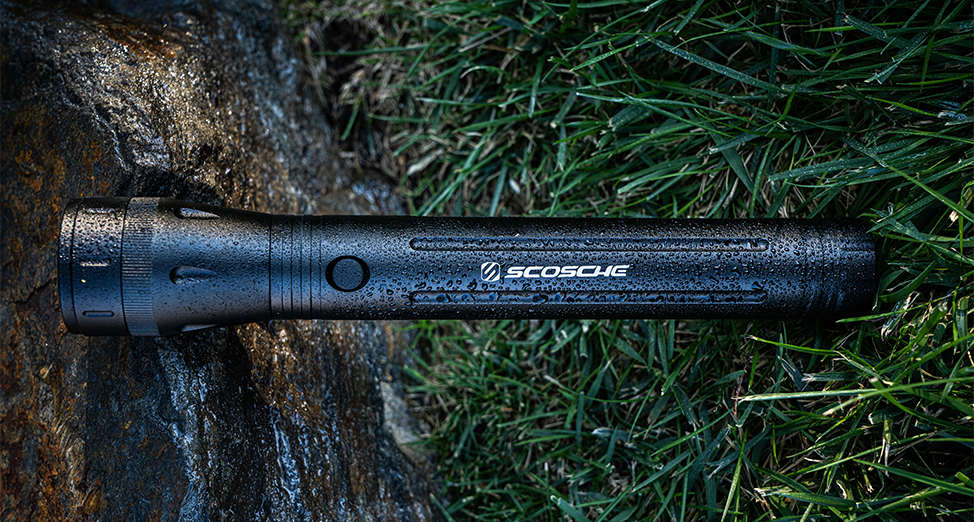 ---
Scosche 200 Lumen Flashlight - How To Use
Specs
Light Source: XPE LED x 1
Max 200 Lumen
Zoomable
Aluminum Body
IP44
303mm; 437g
Beam Distance: 500m
Beam Intensity: 11108
Drop Resistance: 1m
Uses 3 X D Batteries (included)
16 Hour Run Time