Wireless Solar Powered Backup Camera System
Part Number
WBUSSPF43-XC0
• HIGH RESOLUTION MONITOR: 480p, 4.3" LCD Plug and Play monitor provides an enhanced view of the rear surroundings of the vehicle.
• SECURE AND COMPACT: Use the suction cup mount base to secure the monitor to the top of your vehicle's dash or console. The ultra-compact wireless solar powered backup camera mounts to the top of the vehicles license rear license plate frame using the existing screws.
• WEATHER RESISTANT AND POWERS AUTOMATICALLY: IP65, Water-resistant camera keeps it safe during rain, stormy weather or in water and the system automatically powers itself on/off.
•SOLAR POWERED WITH CLEAR VISIBILITY: Wireless solar powered backup camera kit features easy installation without having to cut and splice any wires. The low-light image sensor on the camera provides clarity during daytime and nighttime.
• WIDE-ANGLE CAMERA LENS: Wide-angle solar backup camera lens captures everything in the rear of the vehicle for a clear display to the monitor.
Up to 40 feet*
*Effective range varies per vehicle
Included: 4.3" Video Monitor, License Plate Camera, 12V Car Charger for Video Monitor, Micro USB Charging Cable
Wireless Solar Powered Backup Camera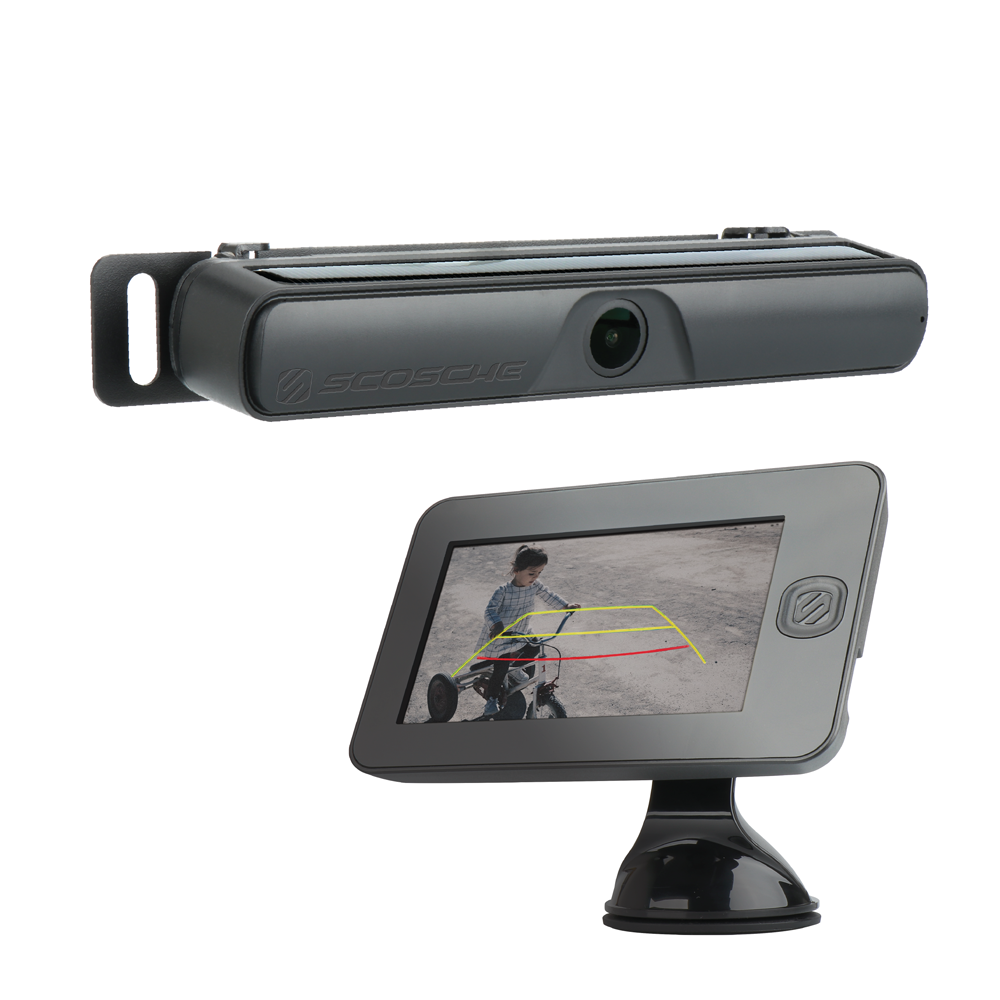 Features
Wireless Solar Powered Backup Camera System
The Scosche wireless solar powered backup camera system provides a perfect view of the vehicle's rear surroundings so you can back up safely. The 4.3" LCD color monitor quickly and securely mounts to the dash or console using the suction cup mounting base. The compact camera's bracket mounts to the top of any standard U.S. license plate frame using the existing screws to lock it in place. Use the included car adapter to easily connect and power the camera and monitor through your vehicle's 12V power outlet. The camera is solar powered by its panel and recharges itself with adequate sunlight exposure. The system powers itself on or off, automatically. The 480p resolution monitor and wide-angle view camera with low-light visibility provides a clear view of objects behind you for maximum safety daytime or nighttime while backing up.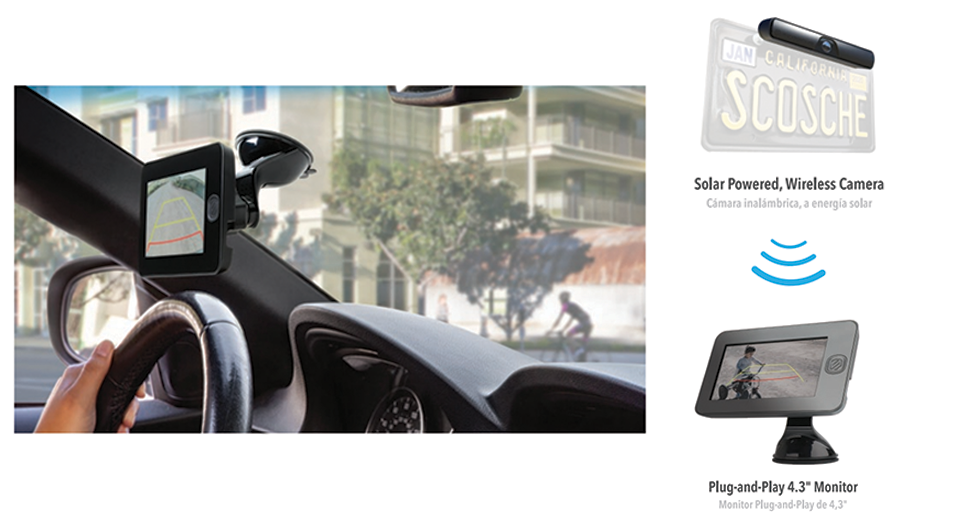 ---
Wireless Solar Powered Backup Camera System
We found other products you might like!