1986-97 Ford Power/Speaker wire harness; Pre-terminated with Butt Connectors
• Connects an aftermarket stereo to the factory radio harnesses • Not compatible with factory amplified systems • Direct Connection to the factory harness without cutting any wires • Manufactured with factory quality wire and connectors • Standard color coded wires for an easier installation
Ford Power 4 Speaker Harness | Speaker Harness | 1986-97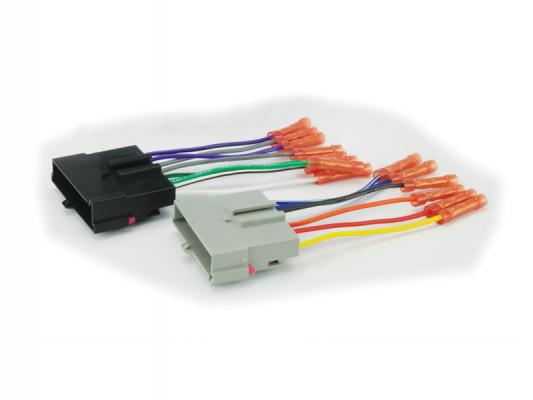 Features
The FD02BCB is a power/speaker wiring harness that is compatible with 1986-Up Ford vehicles. This convenient harness includes butt connectors to make your aftermarket stereo install easy and efficient.

Integrated EIA standard color-coded wiring help to guide you through the install process. Each harness has been designed with durable plastic and metal materials.

This harness is not for use with factory amplified sound systems.
The FD02BCB is compatible with the following Vehicles:
FORD AEROSTAR 1985 to 1991 With Rear Headphone & Equalizer FORD AEROSTAR 1985 to 1997 Standard FORD ASPIRE 1994 to 1997 FORD BRONCO Full Size 1987 to 1996 FORD BRONCO II 1987 to 1988 FORD BRONCO II 1989 to 1990 Standard FORD CLUB WAGON 1992 to 1997 FORD CONTOUR 1995 to 1999 Standard FORD CROWN VICTORIA 1986 to 1989 FORD CROWN VICTORIA 1992 to 1997 Standard FORD ECONOLINE 1987 to 1996 FORD ECONOLINE/E VAN 1997 to 1997 FORD ESCORT 1987 to 2003 FORD ESCORT 1991 to 1996 Standard FORD EXP 1987 to 1988 FORD EXPEDITION 1997 to 1997 Standard FORD EXPLORER 1991 to 1997 Standard FORD F SERIES PICKUP 1987 to 1996 FORD F-150 1997 to 1998 FORD F-250/350 SUPER DUTY PICKUP 1997 to 1997 FORD F-250/350 SUPER DUTY PICKUP 1998 to 1998 Standard FORD FOCUS 2000 to 2004 FORD FOCUS 2002 to 2002 4 Door/5 Door FORD LTD CROWN VICTORIA 1990 to 1991 Standard FORD MUSTANG 1987 to 1993 FORD MUSTANG 1994 to 2000 Standard FORD PROBE 1989 to 1992
FORD PROBE 1993 to 1997 Standard FORD RANGER 1987 to 1994 FORD RANGER 1995 to 1997 Base: Manual windows/locks FORD RANGER 1995 to 1997 Standard FORD TAURUS 1986 to 1995 Standard FORD TEMPO 1988 to 1994 FORD THUNDERBIRD 1987 to 1988 FORD THUNDERBIRD 1989 to 1997 Standard FORD WINDSTAR 1995 to 1998 Standard LINCOLN LSC 1987 to 1989 LINCOLN MARK VII 1987 to 1989 LINCOLN TOWN CAR 1987 to 1989 MAZDA B SERIES PICKUP 1994 to 1997 Standard MAZDA NAVAJO 1991 to 1994 Standard MERCURY CAPRI 1991 to 1995 MERCURY COUGAR 1987 to 2000 MERCURY GRAND MARQUIS 1987 to 1989 MERCURY GRAND MARQUIS 1990 to 1997 Standard MERCURY LYNX 1987 to 1987 MERCURY MARQUIS 1987 to 1988 MERCURY MOUNTAINEER 1995 to 1999 Standard MERCURY MOUNTAINEER 1996 to 1997 MERCURY SABLE 1986 to 1995 MERCURY TOPAZ 1988 to 1994 MERCURY TRACER 1991 to 1999 MERCURY VILLAGER 1993 to 1998 Standard NISSAN QUEST 1993 to 1998