1995-07 Nissan Power/Speaker wire harness; Pre-terminated with Butt Connectors
• Connects an aftermarket stereo to the factory radio harnesses • Not compatible with factory amplified systems • Direct Connection to the factory harness without cutting any wires • Manufactured with factory quality wire and connectors • Standard color coded wires for an easier installation
Nissan Power/Speaker Wiring Harness | Wiring Harness | 1995-Up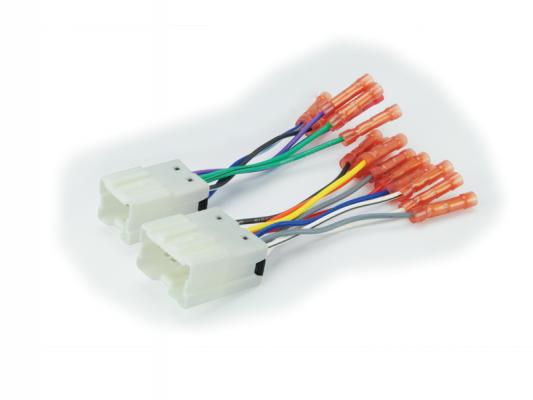 Features The NN03BCB is a power/speaker wiring harness that is compatible with 1995-Up Nissan vehicles. This convenient harness includes butt connectors to make your aftermarket stereo install easy and efficient.

Integrated EIA standard color-coded wiring help to guide you through the install process. Each harness has been designed with durable plastic and metal materials.

This harness is not for use with factory amplified sound systems.
The NN03BCB is compatible with the following Vehicles:
INFINITI G20 1999 to 2002 INFINITI G35 Coupe 2003 to 2007 INFINITI G35 Sedan 2003 to 2008 INFINITI I30 1996 to 1999 INFINITI Q45 1997 to 1999 Non Bose INFINITI Q45 1997 to 1999 With Bose INFINITI Q45 2000 to 2003 INFINITI QX4 1997 to 1999 Non Bose INFINITI QX4 1997 to 1999 With Bose INFINITI QX4 2000 to 2003 INFINITI QX56 2004 to 2012 NISSAN 200 SX 1995 to 1999 NISSAN 240 SX 1995 to 1998 NISSAN 350Z 2003 to 2008 NISSAN 350Z CONVERTIBLE 2004 to 2008 NISSAN ALTIMA 1995 to 2004 NISSAN ALTIMA 2005 to 2006 Non Factory Navigation NISSAN ALTIMA 2005 to 2006 With Factory Navigation NISSAN ARMADA 2004 to 2007 With Factory Navigation NISSAN ARMADA 2004 to 2013 Standard
NISSAN ARMADA 2006 to 2013 With Bose NISSAN FRONTIER 1998 to 2007 NISSAN HARDBODY 1995 to 1997 NISSAN MAXIMA 1995 to 1999 SE/GLE/GXE NISSAN MAXIMA 2000 to 2001 With Bose NISSAN MAXIMA 2000 to 2001 With pocket NISSAN MAXIMA 2000 to 2001 Without pocket NISSAN MAXIMA 2002 to 2006 NISSAN MURANO 2004 to 2007 NISSAN PATHFINDER 1995 to 2007 NISSAN PATHFINDER 2001 to 2003 With Bose NISSAN PATHFINDER 2001 to 2003 Without Bose NISSAN QUEST 2004 to 2010 NISSAN SENTRA 1995 to 1999 NISSAN SENTRA 2000 to 2006 Factory Metallic Dash Color NISSAN SENTRA 2000 to 2006 Factory Sand Dash Color NISSAN SENTRA 2000 to 2006 Factory Stone Dash Color NISSAN TITAN 2004 to 2007 Standard NISSAN TITAN 2004 to 2007 With Factory Navigation NISSAN TITAN 2006 to 2007 With Bose NISSAN XTERRA 2001 to 2007