1998-08 Honda Power/Speaker wire harness; Pre-terminated with Butt Connectors
• Connects an aftermarket stereo to the factory radio harnesses • Not compatible with factory amplified systems • Direct Connection to the factory harness without cutting any wires • Manufactured with factory quality wire and connectors • Standard color coded wires for an easier installation
Honda Wiring Harness | Acura Wiring Harness | 1998-Up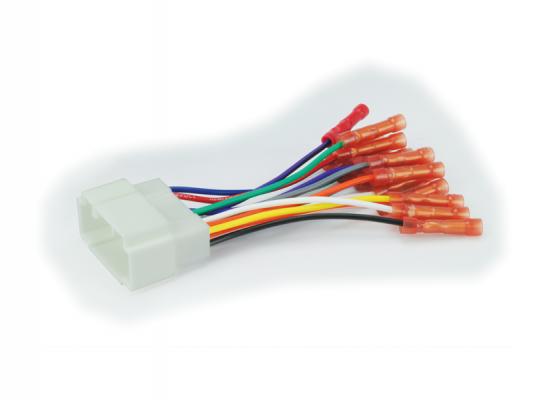 Features The HA08BCB is a power/speaker wiring harness that is compatible with 1998-Up Honda/Acura vehicles. This convenient harness includes butt connectors to make your aftermarket stereo install easy and efficient.

Integrated EIA standard color-coded wiring help to guide you through the install process. Each harness has been designed with durable plastic and metal materials.

This harness is not for use with factory amplified sound systems.
The HA08BCB is compatible with the following Vehicles:
ACURA CL 1999 to 2003 ACURA INTEGRA 1999 to 2001 ACURA MDX 2001 to 2019 ACURA MDX 2007 to 2008 Non Navigation ACURA MDX 2007 to 2013 With Factory Navigation ACURA NSX 2001 to 2005 ACURA RDX 2007 to 2007 Non Navigation ACURA RL 1999 to 2008 ACURA RSX 2002 to 2005 ACURA TL 1999 to 2007 ACURA TSX 2004 to 2008 Non Navigation ACURA TSX 2004 to 2008 With Factory Navigation HONDA ACCORD 1998 to 2002 EX HONDA ACCORD 1998 to 2002 LX/DX HONDA ACCORD 2003 to 2007 Premium touch-screen integration
HONDA CIVIC 1999 to 2005 HONDA CIVIC SI 2002 to 2005 HONDA CRV 1999 to 2006 HONDA ELEMENT 2003 to 2006 HONDA ELEMENT 2007 to 2011 LX Only HONDA ELEMENT 2007 to 2011 Non LX HONDA INSIGHT 2001 to 2006 HONDA ODYSSEY 1999 to 2004 HONDA ODYSSEY 2005 to 2007 Non Navigation HONDA ODYSSEY 2005 to 2010 With Factory Navigation HONDA PILOT 2003 to 2008 LX Only HONDA PILOT 2003 to 2008 Non LX, Non Navigation HONDA PRELUDE 1999 to 2001 HONDA RIDGELINE 2006 to 2008 Non Navigation HONDA RIDGELINE 2006 to 2008 With Factory Navigation HONDA S2000 2000 to 2009