2002-07 Chrysler, Dodge, Jeep, Plymouth Power/Speaker wire harness; Pre-terminated with Butt Connectors
• Connects an aftermarket stereo to the factory radio harnesses • Not compatible with factory amplified systems • Direct Connection to the factory harness without cutting any wires • Manufactured with factory quality wire and connectors • Standard color coded wires for an easier installation
Chrysler Vehicles Power Speaker Wiring Harness | Wiring Harness | 2002-Up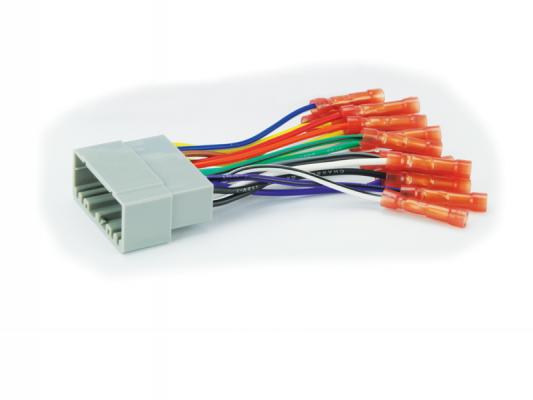 Features The CR02BCB is a power/speaker wiring harness that is compatible with 2002-Up Chrysler vehicles. This convenient harness includes butt connectors to make your aftermarket stereo install easy and efficient.

Integrated EIA standard color-coded wiring help to guide you through the install process. Each harness has been designed with durable plastic and metal materials.

This harness is not for use with factory amplified sound systems.
The CR02BCB is compatible with the following Vehicles:
CHRYSLER 300M 2003 to 2004 CHRYSLER CONCORDE 2004 to 2004 CHRYSLER PACIFICA 2003 to 2007 CHRYSLER PT CRUISER 2002 to 2005 CHRYSLER SEBRING 2002 to 2006 Convertible CHRYSLER SEBRING 2003 to 2006 Coupe CHRYSLER SEBRING 2003 to 2006 Sedan CHRYSLER TOWN & COUNTRY 2003 to 2007 DODGE CARAVAN 2002 to 2007 DODGE DAKOTA 2002 to 2004
DODGE DURANGO 2002 to 2003 DODGE INTREPID 2002 to 2004 DODGE NEON 2002 to 2005 DODGE RAM PICKUP 2002 to 2005 DODGE RAM VAN 2002 to 2002 DODGE STRATUS 2002 to 2006 Coupe DODGE STRATUS 2002 to 2006 Sedan DODGE VIPER 2002 to 2005 JEEP GRAND CHEROKEE 2002 to 2004 JEEP LIBERTY 2002 to 2007 JEEP WRANGLER 2003 to 2006