Scosche PowerUp 400 Torch
400 Amp Jump Starter / Power Bank / Flashlight
The PowerUp 400 Car Jumper/Power Bank/Flashlight is the compact, lightweight answer to vehicle emergency situations.
• Spark-free, 6-Point Safety Protection System
• Jump starts engines up to 6 cyl and 3.5 liters
• Power Bank for charging your mobile devices
• Ultra-bright, Multi-Mode LED Flashlight
• Compact, Lightweight Design
• Simple to use
Includes: Flashlight/Power Bank/Jump Starter, Jump Start Cables, Car Charger & Charging Cable, Carrying Case
Emergency Jump Starter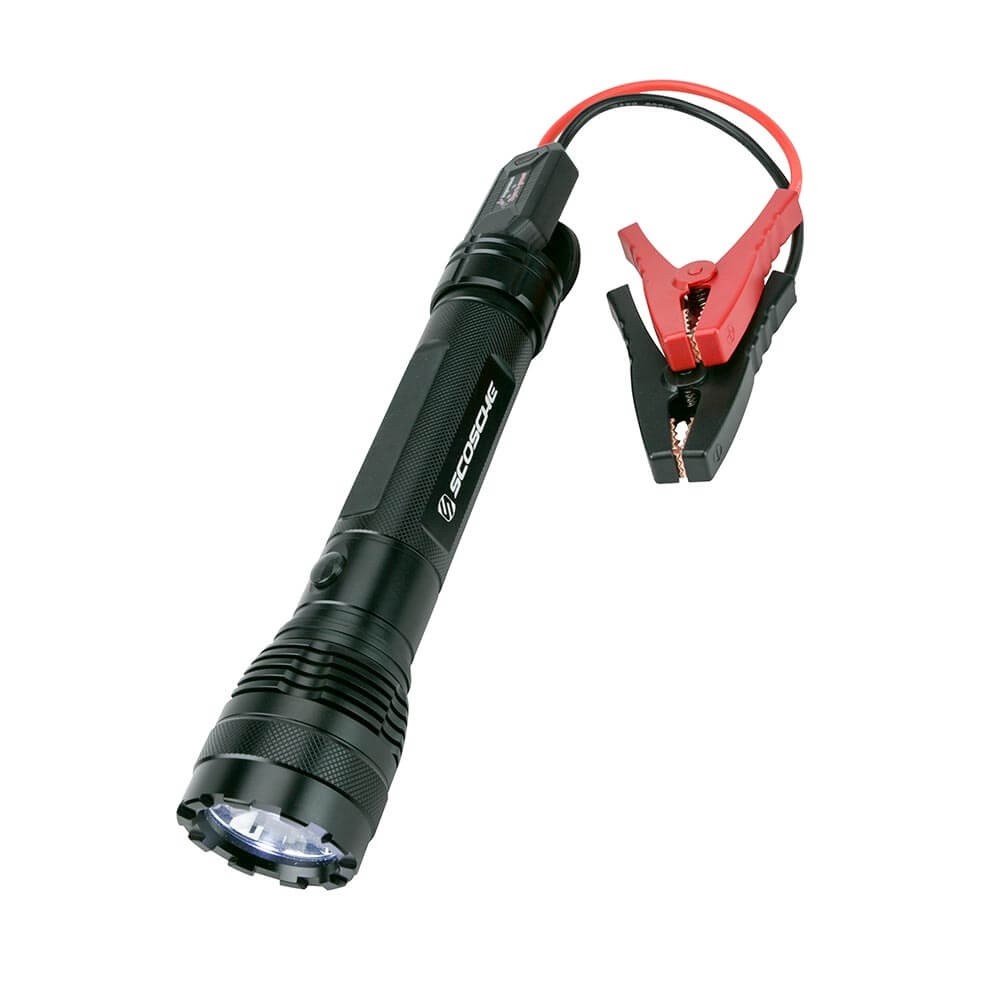 Features
Scosche Scosche PowerUp 400 Torch FAQs
Touching the clamps together can generate a spark and cause a short circuit which can damage the Powerbank.
Yes corrosion on the battery terminals may keep the clamps from making contact.
The Powerbank can be charged and discharged 1000+ times without causing any damage to the internal battery.
No the Scosche PowerUp 400 is only designed to jumpstart engines up to 6 cylinders (up to 3.5 liters).
The Powerbank can jump start a car up to 3 times on a full charge.
The Powerbank can hold a charge up to 6 Months.

Ultra-Bright Multi-Mode 1000 Lumen LED Flashlight
Lights your way in the dark or signal for help.
Compact/Portable Design
Eliminates the need for clumsy charging cables bulky jump starters or a second vehicle to jump start yours.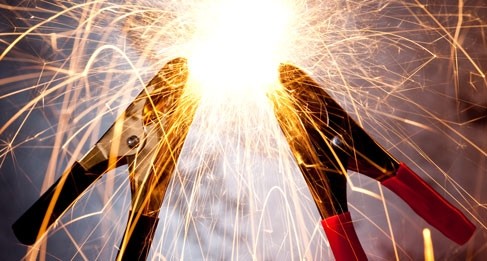 Spark-Free 6-Point Safety Protection System
How many times have you messed around with jumper cables only to have the positive and negative touch? With most portable jumpers on the market you can cause a short circuit and permanently damage the unit when those clamps come in contact. Plus those sparks can be dangerous. Provides maximum peace of mind. It protects you your vehicle and the jump starter from overheating overcurrent overcharging over discharging short circuits and reverse connection issues.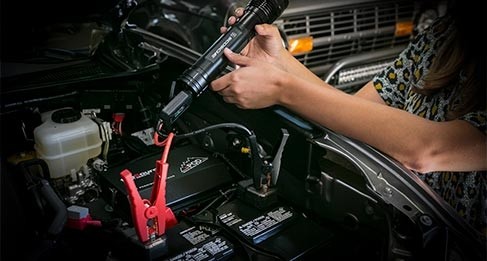 Ample Starting Power
The 5 100 mAh battery with peak current of 400A delivers enough power to quickly jump start a wide array of vehicles (engines up to 6 cylinders and 3.5 liters).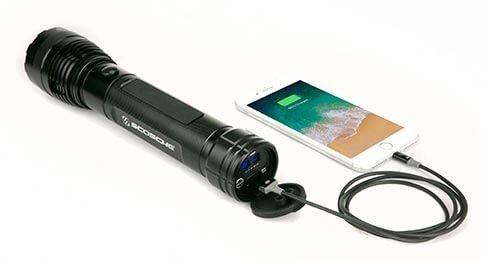 Super Dependable and Fast Recharging
Can hold a charge for up to 6 months at a time so you'll have the stand-by power you need for months to come!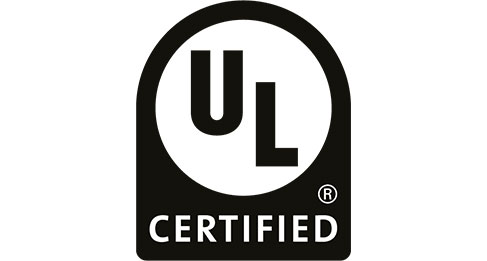 UL Certified
Never get stranded with a flat battery again. Scosche's portable vehicle jump starters are UL Safety Certified, simple to use and quickly get you started and on your way.
Specs
Capacity: 5100 mAh (18.87Wh)
Size: 10.5" x 2.375"
Weight: 23.5oz
Input: 5V-2A
USB Output: 5V-2A
Jumper Voltage: 12vdc
Starting Current: 200A
Peak Current: 400A
Multi-Mode LED Light: On, SOS and Pulse
Battery Type: Lithium Polymer
Operating Temperature: 0-140º F
UL Certified