700A Portable Car Jump Starter/USB Power Bank and LED Flashlight
High-Capacity 15,000mAh Lithium-ion Battery w/700 Amp Peak
Jump Start Vehicles up to 10 Cylinders
Spark-Free, 6-Point Safety Protection System
Dual 5V (2.1A + 1.1A) USB Ports for Charging Mobile Devices
Safety Protection against Short Circuit, Reverse Connection, Polarity, & More
Ultra-Bright LED Flashlight
1000+ Charge / Discharge Cycle
Backwards Compatible to work with smaller engines
LED Battery Power Level Indicator
Works great on cars, trucks, boats, ATV/UTVs and more
Included: Scosche Portable Car Jump Starter with USB Power Bank, Jump Start Cables & Charging Cable
Portable Jump Starter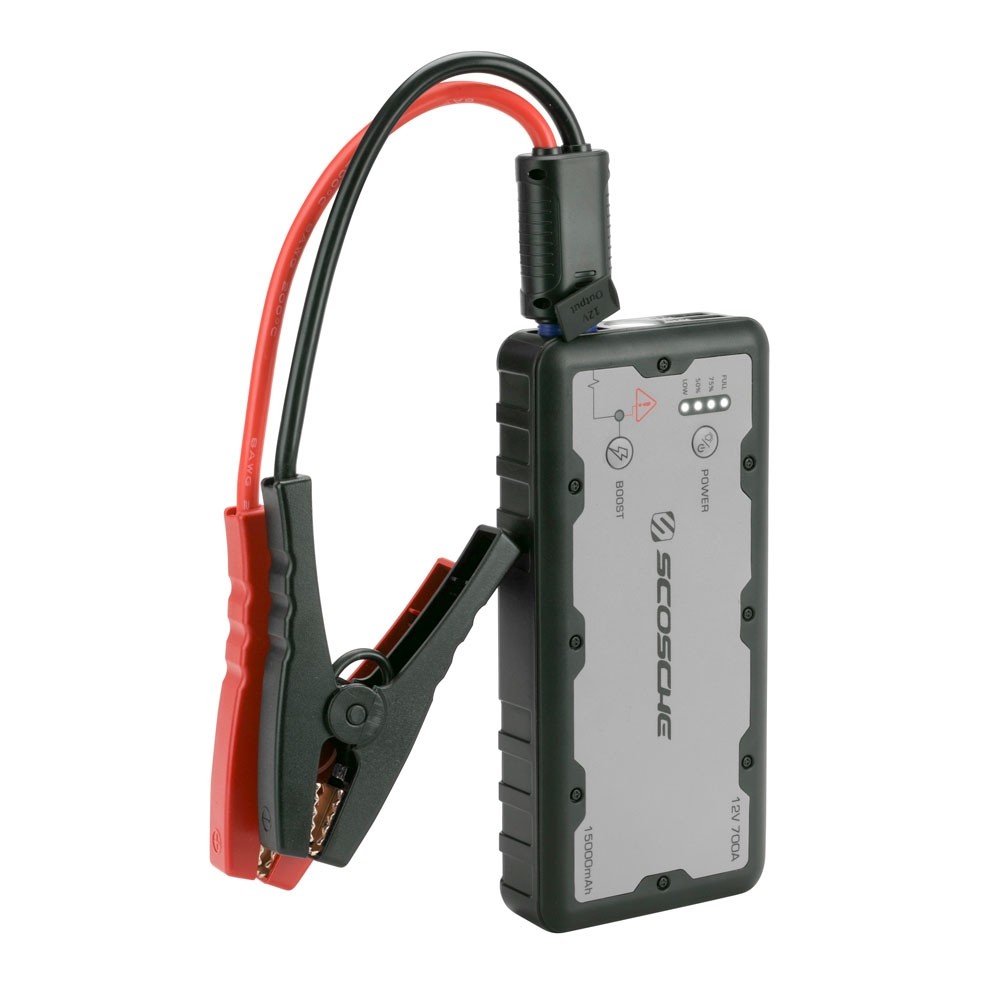 Features
Scosche PowerUp 700 FAQs
Connecting the clamps together can generate a spark and cause a short circuit which can damage the Powerbank.
Yes corrosion on the battery terminals will keep to clamps from making contact.
Scosche jump starter is designed to work on dead batteries that still have 4volts worth of power left so the Powerbank will not turn on if the battery is 100% drained. The Boost Button will override that feature and allow you to start a completely discharged battery if needed.
The Powerbank can be charged and discharged 1000+ times without causing any damage to the internal battery.
The Powerbank is backwards compatible and can jump an engine as low as 4 cylinders and as high as 10 cylinders.
Yes The PBJ700 IS capable of jumpstarting an 8+ cylinder engine.
The Powerbank can jump start a car up to 3 times on a full charge.
The Powerbank can hold a charge up to 6 Months.
Meet The New Emergency Kit Essential
This innovative versatile product can quickly easily and safely jumpstart a wide range of vehicles with a powerful portable high-capacity Lithium-Ion battery plus you can charge mobile devices and the multi-mode flashlight maximizes visibility in the dark. Best of all this portable battery jump starter is spark-free. Works great on cars trucks boats ATV/UTVs and more.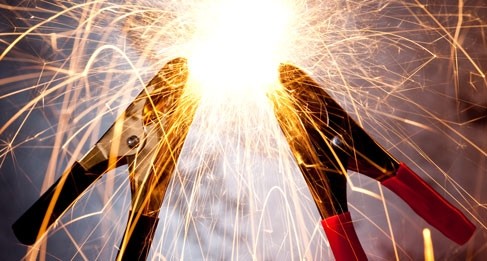 Spark Proof Clamps
How many times have you messed around with jumper cables only to have the positive and negative touch? With most portable jumpers on the market you can cause a short circuit and permanently damage the unit when those clamps come in contact. Plus sparks can be dangerous to you and the vehicle as well. The Scosche PowerUp was designed with Spark Proof technology allowing you your vehicle and the unit to stay safe should the clamps touch.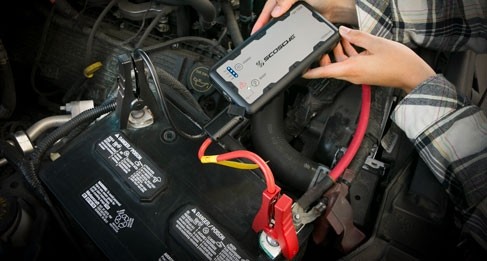 Extended Powerful Charge
The high-capacity 15 000 mAh Lithium-ion battery helps provide a peak jump start current of 700 Amps. This allows you to jump start a vehicle with an engine up to 10 cylinders. With a slow discharge the PBJ700 can hold a charge for up to 6 months.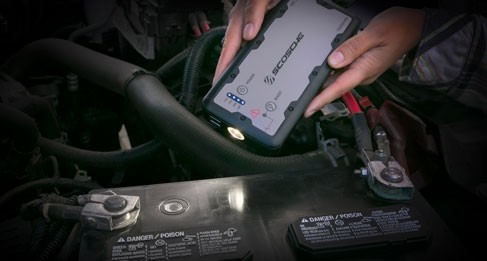 Ultra-Bright LED
Need some extra light? This unit has you covered. With the built-in ultra-bright LED you're provided with plenty of light to find your battery terminals find your phone in the abyss under your seat in your carry bag or wherever you may need it. The LED can also has a strobe and SOS flashing option.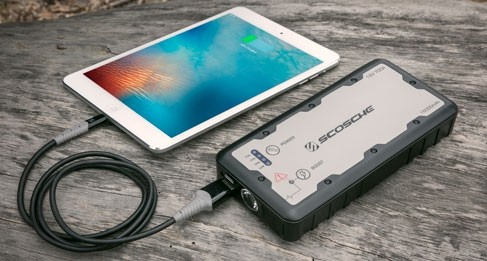 Multi-functional Dual 5V USB Ports
This portable battery jump starter includes many other great features such as the ability to use as a backup battery for mobile devices. Providing you with one 2.1A and one 1.1A USB ports you can change two devices at once!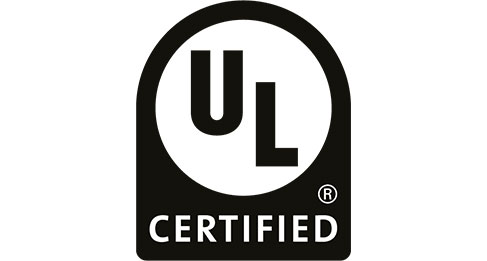 UL Certified
Never get stranded with a flat battery again. Scosche's portable vehicle jump starters are UL Safety Certified, simple to use and quickly get you started and on your way.
Scosche PowerUp 700 - How-To Video
Specs
High-Capacity 15,000 mAh Lithium-ion Battery
Peak Jumpstar Current of 700 Amps
Works on Engines up to 10 Cylinders
Spark-Free, 6-Point Safety Protection
Safety Protection Against Short Circuit, Reverse Connection & More
Dual USB Charge Ports for Smartphones, Tablets & More
Ultra-Bright LED Flashlight
Front Panel Battery Level Indicator
Holds Charge for up to 12 months
1000+ Charge / Discharge Cycle
Smart Phone
And other Wireless Charging Smartphones
We found other products you might like!