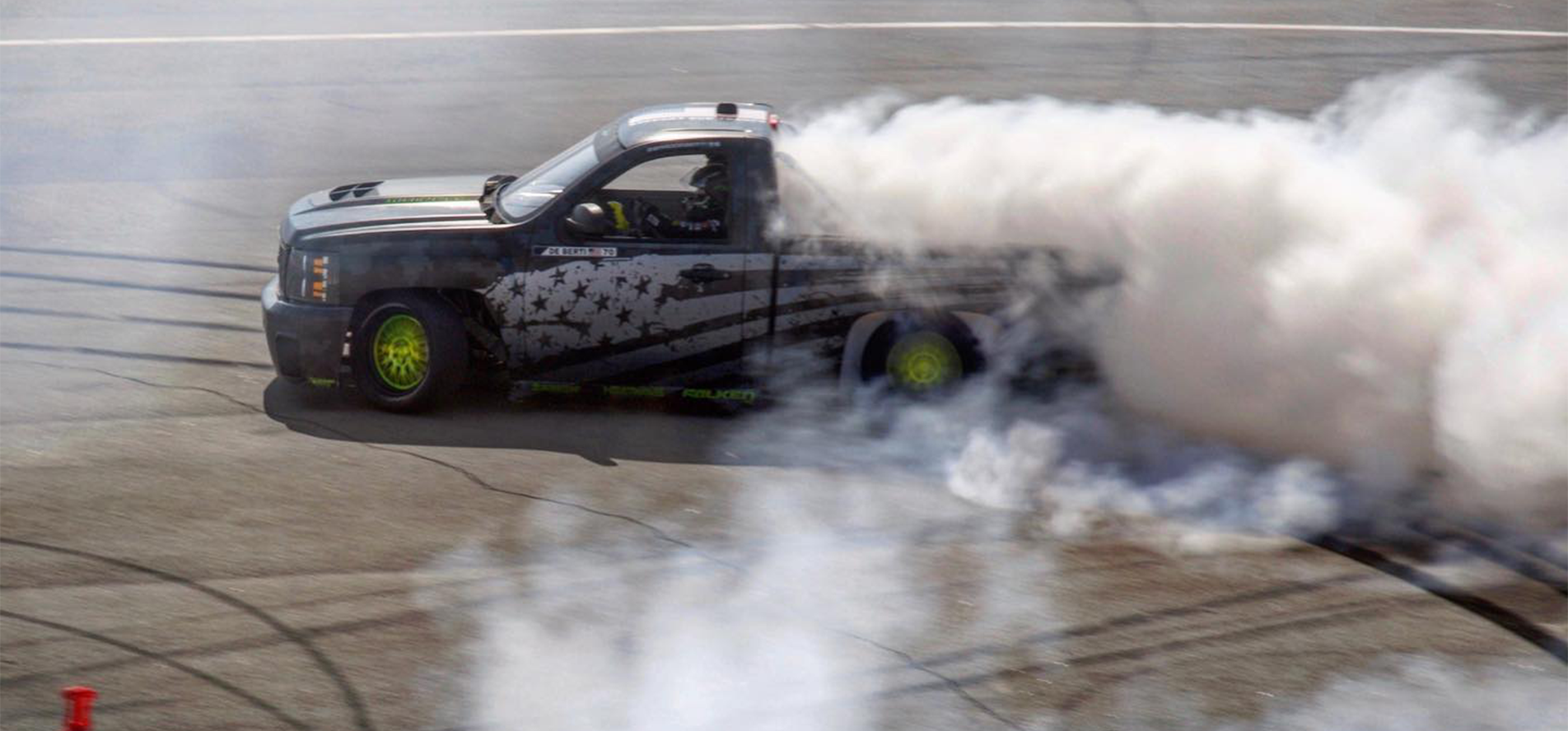 BRAD DEBERTI

Professional Race Car Driver and Custom Truck Builder
---
Recovering from a serious crash is tough enough, but returning to racing, vehicle builds, and winning numerous awards and titles is beyond remarkable. Brad Deberti defied the odds through his combination of courage, determination, hard work and the support of his family. And, despite experiencing so much success all by the age of 24, Brad remains as humble and down-to-earth as ever.
When did you start driving and who taught you?
I have won awards at some of the biggest car shows in the world, as well as racing titles, but the one that stands out most for me was my first short course national race. Having never raced anything before, my pops and I decided to try it. We practiced hard and joined the professional series. We couldn't afford new tires, had no sponsors (because I had zero experience) and sold just about everything we owned to make it happen. My dad put the names of all the sponsors we wanted on my truck. When I asked why he said "Brad, if you do well these sponsors will be calling us". I won each of my first two professional races by almost seven seconds and that changed everything. All the companies my dad put on the truck called us.
What did you learn about yourself from experiencing a terrible crash in 2016?
In 2016, in Mexico, I was hit by another racer at about 90mph and my truck went into a roll and kept going until I rolled 7 times (pulling a G-Force of 6). My back was broken in five spots, I suffered a severe concussion, ruptured all the blood vessels in my eyes, sprained my tailbone and had blood freckles from the G-Force. I realized that it wasn't my fault that I got hit by an out-of-control driver, and because of that I jumped right back into racing after my recovery. In 2017 I won my first race back and went on to win the NASCAR Rookie of the Year and a short course championship title.
You've built custom vehicles in your family business from an early age. What is your favorite build?
It's impossible for me to pick a favorite because all of our builds are unique and each one has a special meaning. Our builds are so crazy that people usually either love them or hate them, but at the end of the day/show they walk away talking about them. For me that's what means the most.
You've experienced a lot of success for a 24-year old (or any age). How do you stay so grounded?
Success is built upon hard work and although I have enjoyed success in different areas of my life, I haven't changed this mindset. I was raised old-school and never had anything handed to me. My dad always told me and my brother "If you want something you either have to build it or work hard to get it". That's what I live by and most of my success has been hand-built.
Do you have a mentor or someone who has really influenced you?
I do have a mentor and a best bud, he's my father. We hang out every day and he is involved in everything I do, from racing to creating, and everything in-between.
Can you share something about yourself that not many people know?
The reason I race and do all the things I do is because it brings me joy and brings out the best of me. Racing connects my entire family and we keep it fun. From the start, I never allow anyone to be upset in my pits or get mad if I didn't do well. I feel this mind set is the key to our success. We don't treat racing like a regular job. It brings us joy and we work hard in between races just to get to the next one. I'm with my family, I'm representing the people who support me, and I'm here to do the absolute best I possibly can. People might be surprised to know how hard I work. You can't just hop in a truck and compete against the best in the world. I'm very focused, from my diet, to my mindset, knowing my truck is prepped, studying all my competitors, not getting into politics, and staying humble.
"Success is built upon hard work! My dad always told me and my brother 'If you want something you either have to build it or work hard to get it'. That's what I live by and most of my success has been hand-built."
BRAD'S FAVORITE
SCOSCHE GEAR
Favorite Scosche product and why?
There are so many Scosche products I use every day it's hard to choose a favorite. If I had to I would say my Boombottle because I take it everywhere and people freak out because I usually set it somewhere goofy (and magnetic), everyone likes the sound quality and the bottle opener. I use my Scosche ProClip mount in my F150 every day. I love that it clips to my dash in two seconds. I also love my BoomBuoy floating speaker and always take it on my travels. It's light, little and so convenient that I can put it in my pocket or backpack.