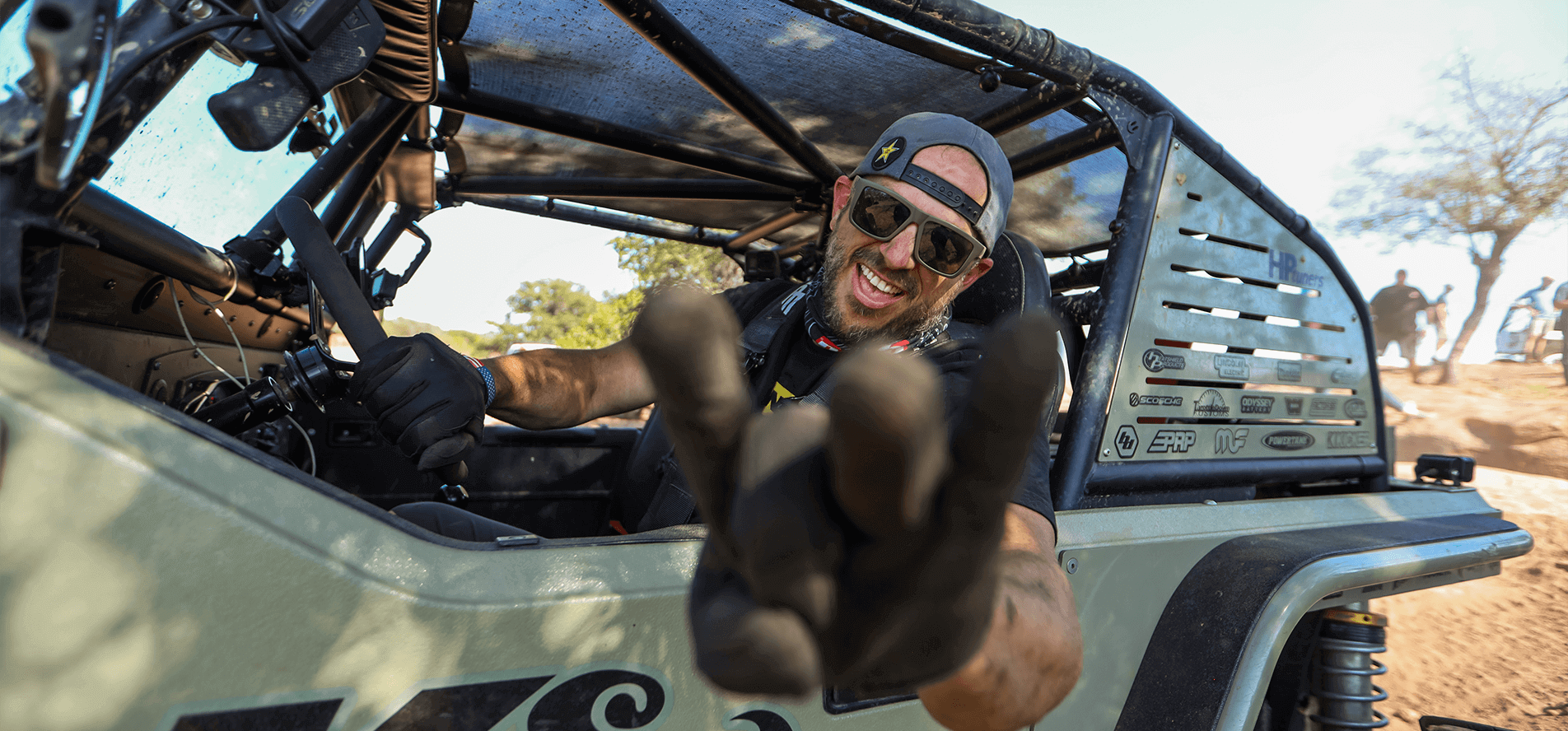 Nic Ashby
Owner/Operator. Rockstar Performance Garage
---
If you've ever admired the Scosche show vehicles, you've witnessed the unique skill and artistry of Scosche Ambassador since 2016, Nic Ashby. Nic and his Rockstar Performance Garage crew have a true passion for vehicles and it shows in every one of their builds.
When did your interest in vehicles begin?
I grew up on a horse ranch in southern Utah, so I was driving trucks around the farm at an early age. As soon as I turned 16 I got my license because that represented independence and freedom.
When, and how, did you start doing vehicle builds?
I was in the Army National Guard from 2003 to 2012 and was deployed to Iraq for 14 months, assigned to a combat engineering unit as a demolition guy. I used my prior construction experience to reinforce and add extra armor to the military vehicles in Iraq by chopping up quarter-inch steel and mounting it to the vehicles as extra protection.
How do you keep yourself, and your Rockstar Performance team, motivated?
I got into this whole thing because I love working on cars and I love doing what I do. All of the guys who work for me are very much the same way and they love what they do. I think the happy balance is trying to figure out a way to keep everybody productive but not destroy their passion. If you push people too hard they can start to not love it and you can lose that creative drive, that inspiration.
What makes yours and Scosche's brands work so well together?
We both pride ourselves on our commitment to the end user by supporting the customer's passion. We help people live their dream, whether that's off-roading in mild jeeps or SUVs, to crazy-built buggies. Scosche's parts are universal and are used on regular road vehicles or by someone rock climbing vertical walls and racing across the desert. For example, we take people to the Great American Crawl, where they get to experience the type of trails they would never normally have the chance (or sometimes, courage) to. Designing the Powersport line is probably one of the most exciting things I did with Scosche. These products help the average powersports hobbyist take their interest to the next level.
Of all the vehicles you've owned, which is your all-time favorite?
The Rockstar GRDLOC Jeep CJ7 is probably the pinnacle vehicle that I've ever owned. It's literally a quarter million dollar vehicle that we hand-built. Next to that, is a 2009 Camaro that Chevrolet gave to me for a build. It broke my heart the day I sold it, but it was also life-changing for me. I used the proceeds from the Camaro to launch LDRSHIP Designs and Rockstar Garage. I had so many people who wanted to buy that car that I interviewed potential buyers. I sold it to a guy who didn't offer the most money, but I knew that it was gonna be his baby, and he had saved for years, and paid for it in cash. He shipped it to his home in Greenland, where I believe he's still racing it.
What surprising thing would you like people to know about you?
People think my family was in the auto industry or I had connections there. In reality, I grew up in rural Utah, had no connections, absolutely none, to the auto industry. I didn't graduate high school and was a teenage anarchist! I had to go to college to study for my GED in order to join the military. It's pretty crazy to think how I came from those humble beginnings to now working on a brand new Cyberpunk video game which is set to be the biggest franchise to hit the gaming industry in the next decade. It just goes to show what you can do if you follow your passion.
NIC'S FAVORITE
SCOSCHE GEAR
Do you have a favorite Scosche product?
The two items I take on every trip are the BoomBottleMM and the BoomBuoy Bluetooth speakers. They are definitely favorites of mine because they're versatile, rugged and they put out a great sound.