WHAT MAKES IT AWESOME?
boomBOTTLE H2O Bluetooth Wireless Speaker packs remarkable wireless audio into a rugged waterproof frame. It's Optimized for Outdoors™ and sounds great by the poolside, on the beach, in the mountains and everywhere in-between.  Where do you take your music?

PLAY IT LOUD
Powerful 50mm up-firing
speaker and passive
subwoofer produce impressive
clear audio and improved
acoustics. The up-firing speaker
sends music in all directions
and includes a protective
speaker grill and shock
absorbing speaker cap.

DON'T WORRY IF YOU
DROP IT INTO THE
WATER. IT'S NOT
ONLY WATERPROOF,
BUT IT FLOATS!
It is built with a non-slip exterior
material that makes it easy to
carry, even when wet. But
should you happen to drop it
into the pool, tub, lake or other
source of water, IT ALSO
FLOATS for safe and
convenient retrieval.

BUILT-IN
RECHARGEABLE POWER
A rechargeable lithium polymer
battery provides up to 11 hours of
continuous music playback. Use
the micro USB cable (included) to
easily charge the boomBOTTLE™
H2O portable speaker before you
leave the house. The charging port
and aux input are carefully covered
with a flap that closes/opens to
protect against dust, debris
and water.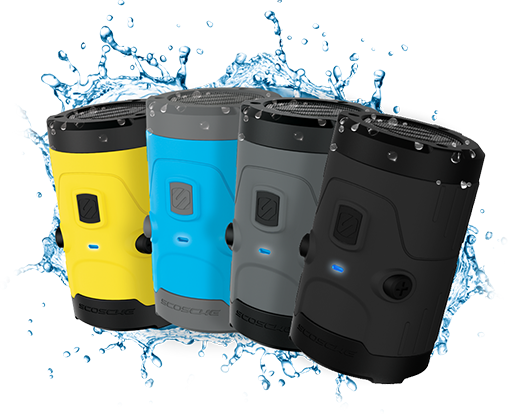 + FREE SHIPPING

COMES IN AN ARRAY
OF SPORTY COLORS
boomBOTTLE H2O is one member of
Scosche's award-winning family of
Bluetooth wireless speakers. Also
check out the original boomBOTTLE,
the boomBOTTLE mini and the
boomBOTTLE H2O Realtree on our
website. No matter what your need is for
great portable wireless sound, Scosche
has a boomBOTTLE that's right for you!

INTEGRATED
MUSIC CONTROLS
Easily to use integrated front controls
regulate play, pause, track
forward/backward, plus adjust volume
and more.

IP67 WATERPROOF
& DUSTPROOF
Can be submerged up to
1 meter for 30 minutes so
it's great for pools, the beach,
boats and more

UNIQUE BOTTLE
DESIGN AND
COMPACT SIZE MAKES
IT EASY TO TAKE
IT ANYWHERE
boomBOTTLE™ H2O's unique
bottle design fits in most water
bottle cages and cup holders
and wirelessly streams audio
to your device. Additionally, a
3.5mm auxiliary input has also
been included for connecting
other devices when wireless
capabilities are not needed.

WIRELESSLY
WORKS WITH
All Bluetooth wireless
streaming A2DP audio devices
including: iPhone, iPod touch,
iPad, Android Devices,
Smartphones, Tablets, Laptops
and more. Also works with
devices using 3.5mm aux
cable. Wireless range up to 33
feet. Pairing is easy.