2006 to 2012 Range Rover® Vogue In-Dash Installation Solution
• +12V ACC via data-bus interface
• analog +12V output for variable dash illumination
• Reverse trigger and ground output for parking brake engagement
• Retains fiber optic amplifier
• Fiber optic network integration and steering wheel controls
INCLUDED:
Double DIN Panel, Bracket Set, SWC Harness, Antenna Adapter, Vehicle Specific (LPLR15) Interface, Vehicle Warning Chime Module, Universal Head Unit and Steering Wheel Connection Harness for most aftermarket brands: Alpine, Clarion, JVC, Kenwood, Pioneer, Sony, and more.
Features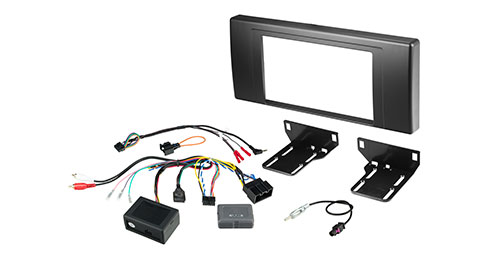 2006 to 2012 Range Rover® Vogue In-Dash Installation Solution
The Scosche LR8102SRB premium installation kit is for 2006 to 2012 Range Rover Vogue Facelift vehicles with Fiber Optic Amplifier Systems, Touchscreen and a Range Rover (20-pin) connector. It combines a seamless replacement from the factory stereo to a Double DIN aftermarket unit and allows you to retain vehicle information and settings to be displayed on aftermarket AV head units for access to the vehicles configuration settings. It retains all existing features on the vehicle. Includes Double DIN Panel, Trim Ring, Cage & Bracket Set, SWC Harness, Antenna Adapter and vehicle specific (LPLR35) Interface. Modification to your dash is required. The LR8102SRB is backed by Scosche's Lifetime Tech Support and Lifetime Limited warranty.
Specs
+12V ACC via data-bus interface
Analog +12V output for variable dash illumination
Reverse trigger and ground output for parking brake engagement
Fiber optic amplifier
2006 to 2012 Range Rover® Vogue