MagicMount™ MSC Phone Stand
Phone Stand for MagSafe® Compatible Wireless Phone Charger
• Our MagicMount MSC phone stand quickly and easily converts your MagSafe Charger or Scosche Base3 MS Charger to an in-vehicle, hands-free wireless charging iPhone stand
• The attractive brushed aluminum is lightweight, strong and designed to complement any home or office decor
• Wirelessly charge and view your iPhone 12 and later on the stand and adjust it for the perfect screen view in either portrait or landscape mode
• Use the cable management clip to attach your cable and keep it safely out of the way
Not compatible with iPhone 13 Pro and iPhone 14 Pro
MagSafe Charger/Scosche Base3 MS Charger Not Included
Scosche Base3 MS Magnetic Wireless Phone Charger:Buy Now
Features
MagicMount MSC Phone Stand
MagicMount MSC Phone Stand is the perfect solution to quickly and easily convert your MagSafe Charger or Base3 MS Magnetic Wireless Phone Charger to an in-vehicle hands-free wireless charging iPhone stand. Place the phone stand onto a firm & flat surface area such as a table or computer desktop and easily click your magnetic wireless charger into our sleek phone holder stand to clearly view and charge your iPhone 12 and later. To help keep things neat and in place, use the 2 cable management clips to attach your cables and keep them safely out of the way. Rotate the phone stand seamlessly to adjust between portrait and landscape views to find the perfect viewing angle of your iPhone mobile phone device.
NOTE: MagSafe Charger/Scosche Base3 MS Charger Not Included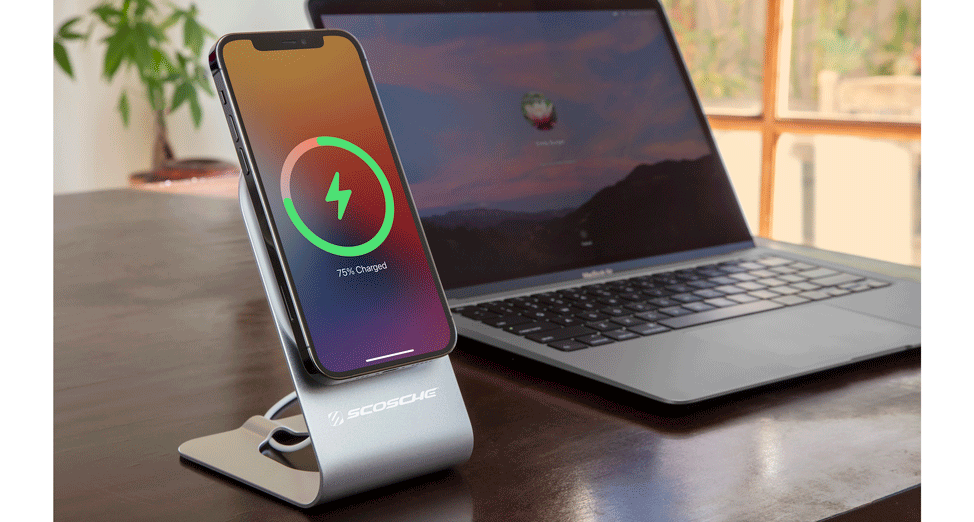 ---
Base3 MS Magnetic Wireless Phone Charger
Charge and mount your iPhone 12 and later while you use it, with this slim, lightweight wireless charger that seamlessly fits into your MagicMount MSC phone mount.
---
MagicMount™ MSC Phone Stand
Specs
360° for Multiple Viewing Angles
We found other products you might like!