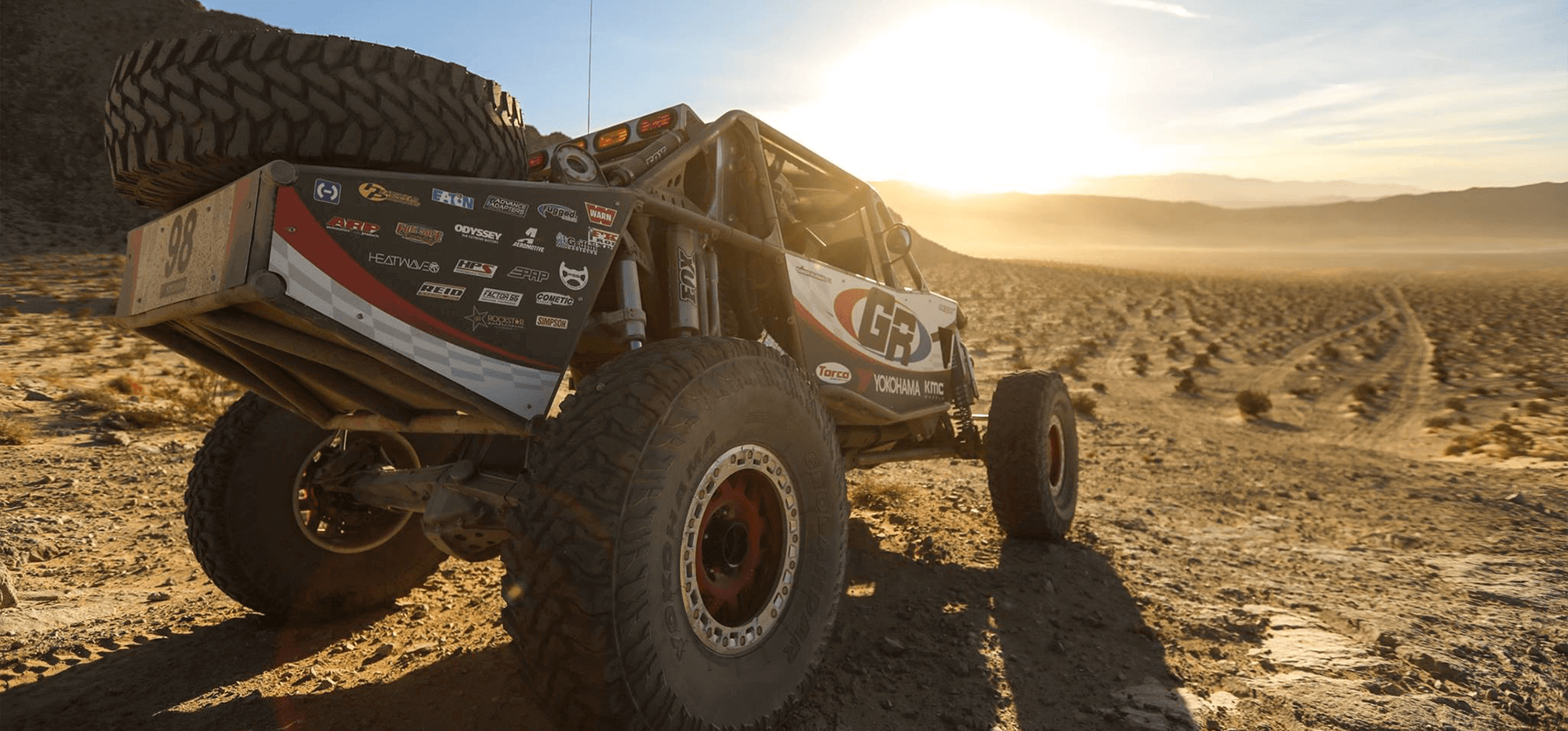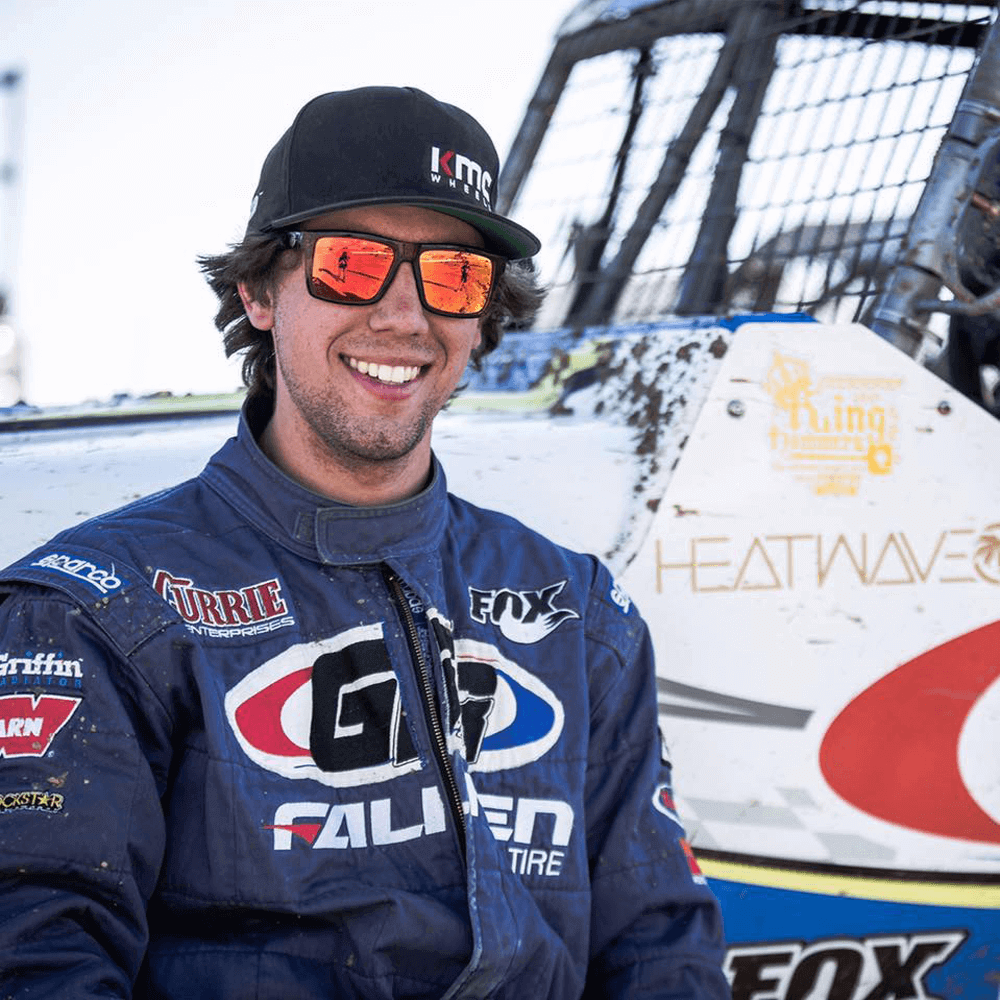 Jordan Pellegrino

Ultra4 Racer and Rock Crawler
Like many of our Scosche Ambassadors, Jordan Pellegrino discovered his passion at a young age. This is not surprising given his pedigree – his dad, Tony, is a King of the Hammers (KOH) legend.
The need for speed, coupled with the skill and grit it takes to climb Johnson Valley's monster rocks is matched only by Jordan's commitment to the less glamorous behind-the-scenes preparation work and long hours necessary for success.
First (motorized) vehicle you drove/rode and how old were you?
When I was really young, as a family we were super into riding dirt bikes and mountain bikes. We even had a dirt bike track in our backyard. I jumped onto a dirt bike at the age of three and since then I've had all sorts of different motorized toys. I got a trophy kart for my ninth birthday, which was my first 4-wheel vehicle. Soon after that I drove my dad's Jeep for the first time.
How old were you when you went to your first King of the Hammers? First impressions of the event?
That feels like an eternity ago. I was 12 years old when my dad raced his first KOH in 2010, and I haven't missed a year since then. I was focused more on what repairs my RC car needed and making sure my batteries were charged. But the event itself intrigued me. I immediately knew it was something that I'd one day take a shot at, but at the time all I could do was watch and learn as much as I could.
Did you know then that you wanted to race Ultra4?
Yes. As soon as we as a family got into Jeeping and rock crawling, I was hooked. In fact I was hooked years before we actually started racing, and fascinated by the diversity and complexity of vehicles you see out there. Everyone has a different setup or build and they are all good at different things. There's no one proven setup. KOH and Ultra4 added another element of high speed into the mix of rock trails, which is perfect because they require different things from a vehicle. I'm fortunate to be able to build and drive what I think is going to be the next winning car.
Your dad, as a KOH legend, must be a tough act to follow – what impact has that had on your racing career?
My dad is definitely a KOH legend – although I'd never admit that to him. He's one of the few people to stand on the KOH 4400 podium multiple times. He's never won the race but has built some incredible cars and driven some incredible races to well-deserved podiums, which is an incredible feat. It is definitely a tough act to follow but it's motivating to have so many people encouraging me and my success. All of my supporters and team have the same goal as me, which is to dominate!
I'm very similar to my dad when it comes to motivation and drive to build the best machine. Racing has taken over my life, for the better, and to say that it hasn't, I'd just be lying to myself. I wake up in the middle of the night after having a dream about a different way to do something on the car. I write it down or draw a quick picture before going back to sleep so I remember it in the morning. I am 150% committed to what we are doing and it's only a matter of time until we are on top
All-time favorite vehicle, and why?
When it comes to previous race cars I would have to go with my old 4500 race car. I had a heap of success in that car. One season I won every race that I entered, except for KOH, which we physically finished first, but after time adjustment we placed second by a matter of a few seconds. That car taught me a lot about driving, wrenching, and was just overall an outstanding vehicle. That's the car my Ultra4 racing career started in and it got us to many podiums and wins along the way.
What do you like to do when you're not racing?
I'm usually in the shop working on something, whether it's cleaning the shop, going through parts, building new parts, fixing tools or machines, etc. With my job, there is almost no time off. I go home to shower and sleep and that's about it. I work most weekends as well just because that's the lifestyle I picked. On the rare occasion that I take the afternoon or night off chances are I'll be washing my truck or maybe in the garage working on my little RC crawlers, 'cause why not go home to do the exact same thing I do at work, just on a really tiny car.
What's next for the GenRight Racing team?
We're working on some big changes and modifications to our race car right now. It's a major redesign on suspension geometry, chassis and packaging of the car, that will hopefully make it perform better, last longer and make it easier to maintain and repair in the field. We're keeping our heads down on the current project and trying to get it done as quickly as possible so we can get back out testing and ready for this next King of the Hammers!
"I am 150% committed to what we are doing and it's only a matter of time until we are on top"
JORDAN'S FAVORITE
SCOSCHE GEAR
Your top three favorite Scosche products?
We'll start with the MagicMount because… what's not to like about it. I use that mount everywhere, shop, house, and all of my vehicles have at least one MagicMount because it's compact and simple. It's perfect for any application.
Next on my list of favorites would be the BoomBottleMM because it lets me blast music in the shop during the day, or I bring it home and have some music for the BBQ. Scosche nailed it with the magnetic base because it attaches to the side of my car lift or under my welding bench, so it's out of the way while I'm working and out of harm's way. The sound it puts out is incredible for its size and the price, you really can't beat it.
And last but not least is the PowerUp 700 Jump Starter/Power Bank/Flashlight. We're always traveling, camping or racing and that unit has come in handy on many occasions, starting a vehicle out in the desert, or charging my phone or camera battery while we're out in the middle of nowhere. I keep one in my race car with me at all times as well as another in my F-150 daily driver.