GoBat Batteries Come Through During Crisis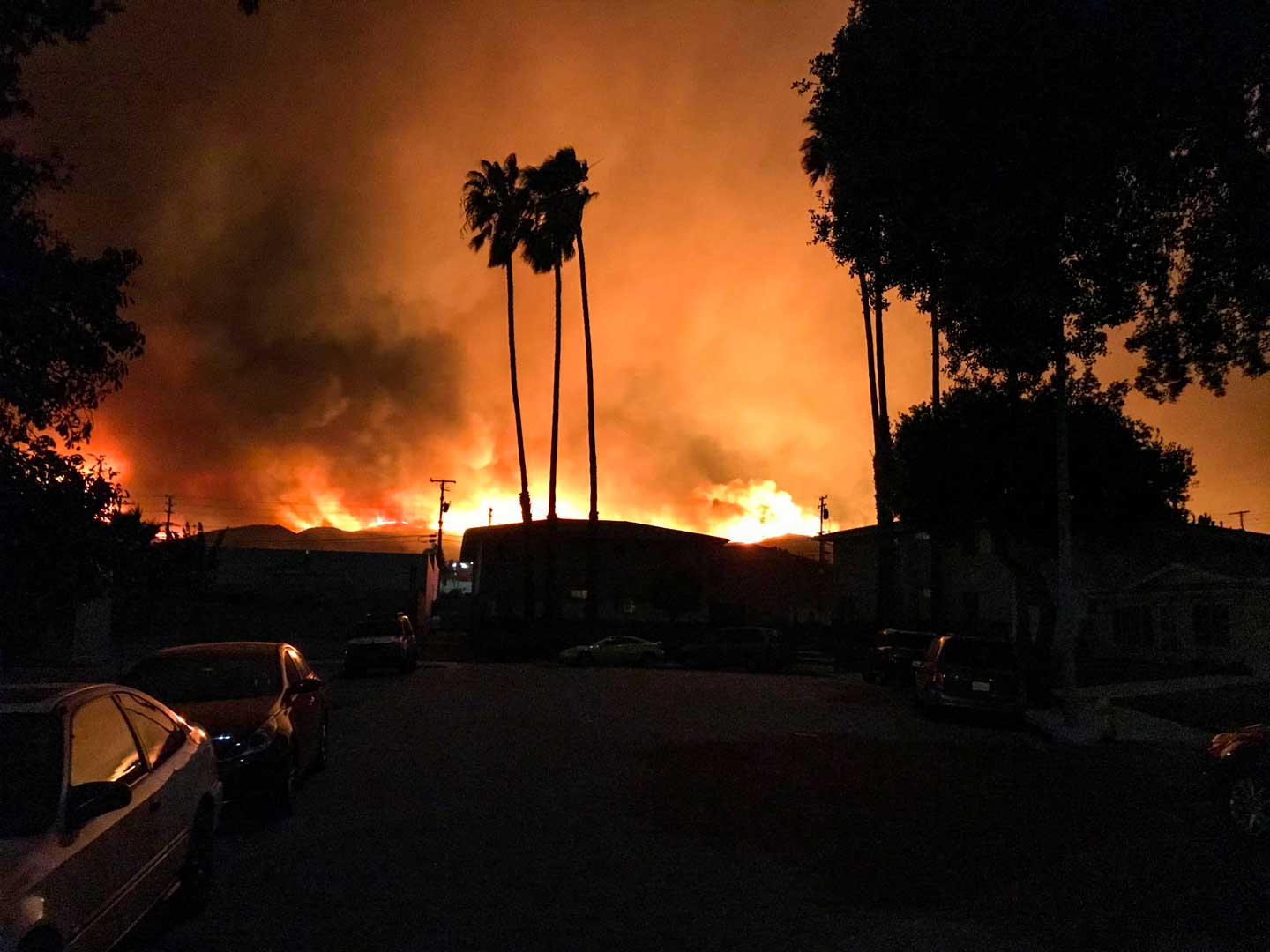 By Chris Merritt
Normally when writing a blog I will find some fun way to tie a product into something interesting and write about it. Tell a fun story, but also talk up a product. This blog post is going to be written in a bit of a different tone. This is a true story about the night that wildfires ripped through the city of Ventura, CA and just how important these products proved to be during a time of crisis.
9:45pm
Dangerously high winds had enveloped most of Southern California. Here in Ventura, the winds had been howling all night long with sustained winds in the 30+ mph range and gusts exceeding 60 mph.
I was sitting on my couch with my girlfriend and roommate watching this week's episode of SNL. The latter half of the episode I found myself dozing off knowing that it would soon be time for me to go to bed anyway. My girlfriend had mentioned that she saw on Facebook that there was a wildfire in the town of Santa Paula which was about 12 miles away from where we were. Then it started.
Our power went out.
We scrambled around to scrounge up all the candles we had around our apartment. We got them lit and then started to speculate as to why the power went out. We figured it had to be wind-related As soon as we could get all the candles together and got them lit and distributed the power came back on.
"Weird" we thought to ourselves. My roommate proceeded to go and blow out all of the candles now spread throughout our apartment. As soon as he blew the last one out the power went back out. I let out a burst of laughter at the irony of the situation. This was when my girlfriend said she was going to leave and I told her I'd walk her out since it was so dark.
We get outside and see an eerie sight. The almost full moon was like a flashlight casting our shadows on the ground. I walked my girlfriend to her car, kissed her and said good night. She lived only a mile away so I knew she would get home safe.
I walked back to my apartment and told my roommate that since the power was out and I was already falling asleep when the lights were still on. I walked up to my bedroom, brushed my teeth, and crawled into bed. I had my GoBat 6000 portable wall charger on my nightstand. Knowing it had a 6000 mAh capacity I knew it could recharge my iPhone 7 Plus and Apple Watch and have plenty of power to spare.
10:30pm
I was laying in bed and hearing the winds just howling by my second story window. I reached for my phone and texted my girlfriend. I asked her how much power she had left on her phone. She said she had 11% left. This prompted me to ask if she wanted me to bring her a backup battery since I had a few on hand. She said she would like that. I grabbed a MagicMount Powerbank and a GoBat 6000 Rugged Backup Battery and walked out to the street to get in my car.
That is when I saw it. What was just a dark cloud only 30 minutes prior had turned into an ominous orange and red glow. The wildfire from our neighboring town had found its way to our sleepy beach town.
As I drove to through the neighborhoods to get to my girlfriend's apartment I was half watching the road half watching the hillside and seeing spurts of oranges and reds and yellows and the occasional flames popping up across the crestline of the foothills. When I arrived I found my girlfriend and her roommate already outside and my girlfriend was on the phone with her parents who lived about five miles away. I walked up to her and without interrupting her conversation I attached the MagicMount Powerbank to her phone and turned it on to start charging her phone.
I walked over to her roommate and asked if she needed to recharge her phone. Her battery was only at 19%. I plugged the Rugged GoBat 6000 into her phone so it would start to recharge. She appreciated it as she was in a frenzy of calling and/or texting her loved ones in the area.
We didn't know what to do but watch it and talk with her neighbors. One neighbor said he had been lucky and opened up his garage door so he could get his car out. My girlfriend also kept her car in the garage. We walked over to her garage and it was so dark. Fortunately, I had my one other backup battery with me - the GoBat 2600. I didn't need it to charge a device at this time but used it for its built-in LED flashlight. Through the door her neighbor had opened we were able to get into the garage and I turned on the flashlight. I walked over to her car and then looked at the garage door above it. I knew there was an emergency release for her garage door so we could open it. I was able to pull the release and opened her garage door.
She backed her car out and parked it on the street.
11:15pm
After watching the fire spread and creep closer while it lit up the night sky and the winds continued to roar my girlfriend and I both decided that it would be a good idea to get our cars packed in the event that we were told to evacuate. I drove to my apartment and my roommate was inside and already using the GoBat 12000 to keep his phone charged. I told him what I saw and that it would be a good idea to get our cars packed so we were ready to go in case we had to evacuate.
We started gathering our belongings. Both of us not being native Californians this is the first time we had ever had to do something like this. We didn't even know what to pack. I used the GoBat 2600 again as a flashlight as I dug through my closet to identify my items of value and importance. We got our cars packed up and I suggested that we go back to my girlfriend's place so that we remain together and can plan what to do together.
11:45pm
We got back to my girlfriend's apartment and saw the fire line moving ever closer minute by the minute. We received an emergency alert on our phones with a link of where to go for the latest news and evacuation orders. Fortunately, our phones were all powered up to receive it.
With cell service being disrupted a bit nothing was loading quickly. The cell towers were jammed with people like us who were cut off from wifi and seeking information. I was using Twitter to try to get the latest updates from the Ventura County Fire account as well as City of Ventura Fire Department. My roommate used his phone to get us registered for alerts and advisories as they were issued. My girlfriend continued to maintain an open line of communication with her family and loved ones.
12:30am
My girlfriend's roommate's boyfriend arrived where we were. He had just left his home on the other side of town where he said it looked like a war zone. The entire hillside was ablaze as he drove from the west side of town. He stopped in downtown Ventura which was about halfway between his home and where we were. He saw the hillside and botanical gardens just behind Ventura's iconic town hall completely engulfed.
He was relieved he was able to keep in touch with his girlfriend despite the power being out because she was able to keep her phone charged.
As we reconvened inside I was given back my Rugged GoBat 6000 as my girlfriend's roommate's phone was completely recharged. Knowing there was plenty of power left in it I plugged it into my phone which was down below 50%.
2:00am
The back and forth continued from watching the fire to going back inside to listen to the radio and seek out information. This was when my girlfriend's roommate and her boyfriend decided to leave to go check on his house. It had been over two hours since he had left and the fire was moving at a speed of a football field per minute.
As they drove through parts of town they kept in touch with us and let us know what they were seeing. This is how we learned that the Hawaiian Village apartment building that overlooked the ocean in downtown Ventura had burned to the ground. This was the first structure fire we had heard about, but we knew it could not be the only one.
They were able to make it to his house and saw that it was safe. He then packed up some of his belonging that he had forgotten and they made their way back.
Meanwhile, we watched and saw the glow from the fires start to fade. It looked like the fireline had moved by us being driven from the westward wind and saving us due south. Adrenalin was pumping still and we knew we should not let our guards down.
3:00am
My girlfriend's roommate and her boyfriend arrive back. They said they were going to try to get some sleep as the exhaustion had set in on them after their trek across town. My roommate, my girlfriend and I decided to go and check on our apartment and hopefully try to get some sleep.
My apartment was only a mile away, but it was a valuable mile east so it actually put us to the eastern side of the nearest fire in the distance while it was being driven westward by the winds. At this point, my girlfriend and I decided to try to get some sleep. As we got ready for bed we had our backup batteries ready to keep our phones charged. She had the MagicMount Powerbank and I had the GoBat 6000 Dual Port Wall Charger.
My roommate stayed downstairs in our living room and had his phone plugged into the GoBat 12000. He wanted to stay awake a bit longer to that if anything were to happen we kept the times that we were all sleeping at a minimum.
3:30am
I managed to fall asleep. Must have just been the pure exhaustion.
5:30am
I woke up. I had that moment of blissful delirium when I first woke up. I had had not remember the events of the night before until the sound of a helicopter whizzing by over my apartment and then it set back in. I hear nothing but sirens and helicopters. It was far from over.
7:30am
Some friends of ours that lived just down the street had said they had power. My girlfriend and I decided that it would be a good idea to go down there and find out the latest of what was happening. I said that I needed to take a shower first so I could wake up a bit. I walked into the bathroom and instinctively I reached for the light switch. I flipped it and nothing. Then I remembered the power was out still. I walked back into my bedroom and grabbed a candle. After lighting it I went to turn the shower on but was greeted by only cold water. As much as I wanted a shower I couldn't bear the idea of a cold shower at this point. I walked back into my bedroom and my girlfriend said she heard something beep. Immediately I assumed she meant my phone, but then I noticed a light on my tv was glowing.
Miraculously, our power came back on. I expected it to quickly go back out, but it stayed on for 30 minutes straight while I was able to enjoy a nice warm shower.
I then rounded up all of the backup batteries and I got them recharging. I did not know how long we would have power so I wanted to take advantage of this time and make sure we were covered in the event that we lost power for a sustained period again.
Fortunately, they were not needed again. The power stayed on and the fires moved through the western edge of our sleepy beach town.
Looking back on that night I realize just how important of a role the Scosche backup batteries played. Four different people were able to use our phones without any hesitation about their battery power. We were able to find out the latest news, register for updates and keep in touch with loved ones all during a 10-hour long blackout.