2003-08 Ford Premium Sound or Audiophile; Power/Speaker and RCA to Sub Amp input wire harness with Butt conn.
• Connects an aftermarket stereo to the factory amplified system • Not compatible with non-amplified factory systems • Direct Connection to the factory ahrness without cutting any wires • Manufactured with factory quality wire and connectors • Standard color coded wires for an easier installation
Ford Power Speaker Harness | Radio Wiring Diagram | 2003-Up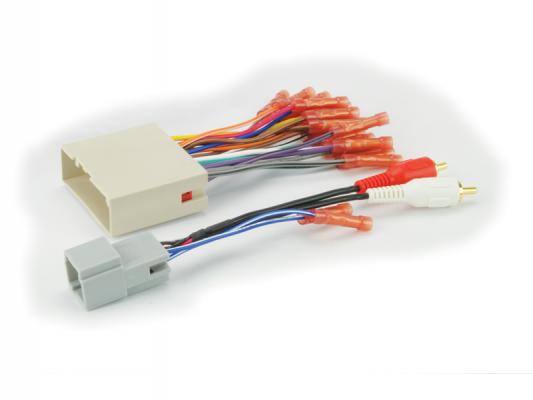 Features The FDK11BCB is a power/speaker wiring harness that is compatible with 2003-Up Ford vehicles. This convenient harness includes butt connectors to make your aftermarket stereo install easy and efficient.

Integrated EIA standard color-coded wiring help to guide you through the install process. Each harness has been designed with durable plastic and metal materials.

This harness is not for use with factory amplified sound systems.
The FDK11BCB is compatible with the following Vehicles:
FORD FREESTYLE 2005 to 2007 Premium Sound FORD FUSION 2006 to 2009 Premium Sound FORD TAURUS 2008 to 2009 Premium Sound
LINCOLN LS SEDAN 2004 to 2006 LINCOLN MARK LT 2006 to 2008 LINCOLN NAVIGATOR 2004 to 2006