Qi Wireless Charging Magnetic Dash Mount
Special Price
$49.99
Regular Price
$69.99
Compatible with iPhone® 8 - iPhone 13
For other devices please see Compatibility tab
• Up to 10W of Qi Certified wireless charging power
• Apple and Samsung Fast Charge Compatible
• Foreign object detection
• Rotating and pivoting base mount easily to a vehicle's dash with automotive grade adhesive
• Thermal management gap between the charging head and the device promotes cooler charging
• Powerful neodymium rare-earth magnets are 100% device safe
Included: Quick Charge USB Car Charger, Two options for Magnetic Mounting, USB-C™ Charging Cable, Two Cable Management Clips
Patented US 11,011,921
Qi Charging Dash Mount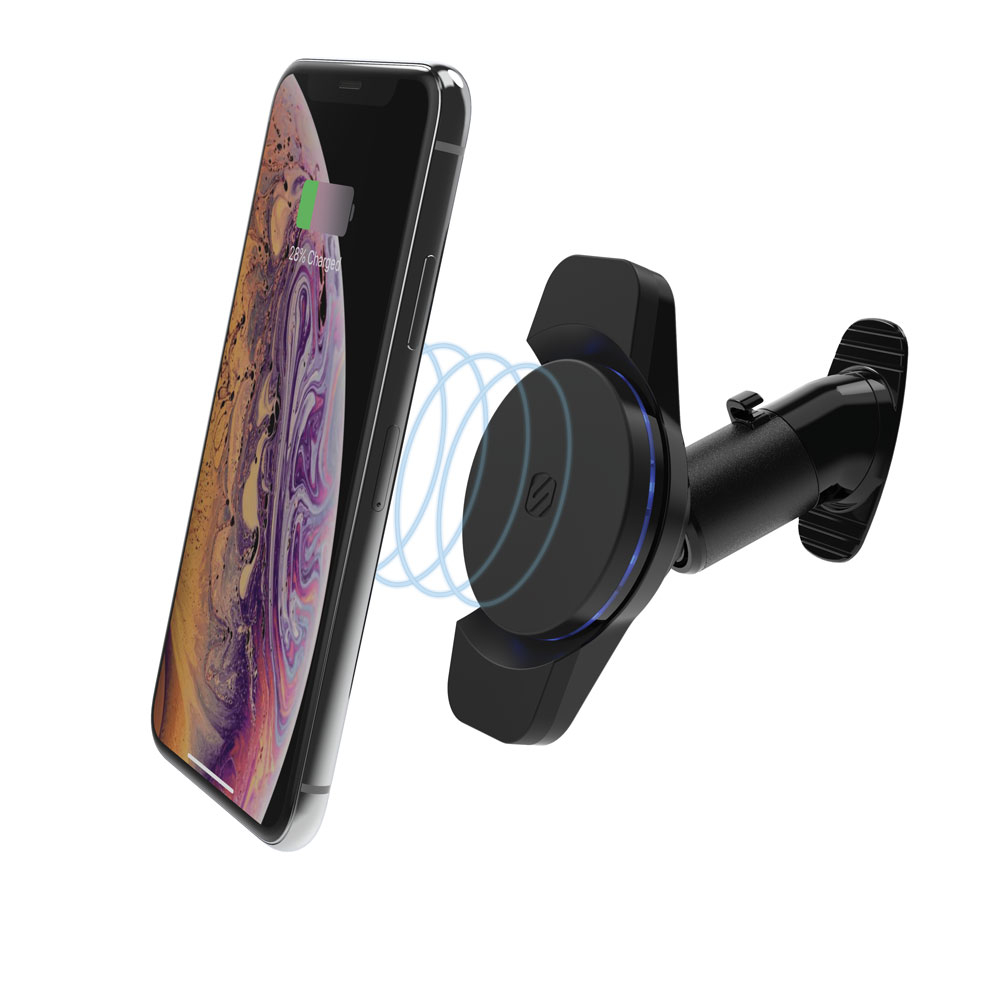 Features
Features & Benefits
Whether you're looking for home/office or on-the-go wireless charging, Scosche has a product for you.
And no matter what product you choose, you'll get these terrific features and benefits.
---

Up to 10W of wireless charging power.
The safe, quick, reliable, proven mounting security of the #1 Mount Brand
The peace of mind of knowing you own a Qi Certified wireless charger thoroughly tested by independent laboratories to ensure its safety, interoperability, compatibility and energy efficiency.
The open design ensures full access to all your device's controls and ports.
Easy, one-hand device use.
Advanced safety features like Foreign Object Detection which safeguards your device.
4-axis adjustability with lock-nut positioning for virtually limitless device positioning (except on Vent mount model).
A MagicPlate™ Placement Template for optimal non-magnetic metal plate placement to ensure maximum charging operational performance.
Compatible with Apple iPhone 8 - iPhone 11, Samsung Galaxy S6-S10/S10+ Plus as well as Qi-enabled devices from Google™, Microsoft™, LG™, HTC™ and Motorola™, Sony® and Blackberry® Note: iPhone 11 MagicPlates™ need to be adhered to a phone case for full support
Apple® & Samsung™ Wireless Fast Charge Compatible
The Scosche UQ01 wireless magnetic charging mount delivers up to a blazing 10W of charging power, making it compatible with Apple and Samsung Wireless Fast Charging.
Powerful 100% Device Safe Magnetic Contact Point
Not only do these wireless magnetic charging mounts deliver fast wireless charging, they also provide a point of magnetic contact for a solid hold from powerful, rare-earth, neodymium magnets.
Foreign Object Detection
Advanced safety features like Foreign Object Detection safeguards your device from overheating and becoming a potential fire hazard.
---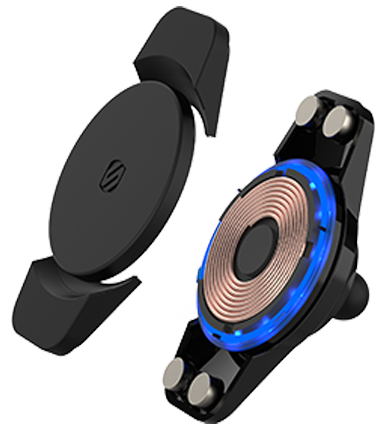 Instructions for applying the MagicPlate™ that comes with your MagicMount Charge3
Wireless Charging Devices
It's important to apply the MagicPlate in the right location on your Qi-enabled phones so that it doesn't block the wireless charging coil. We've created a MagicPlate Template Guide (included in the box with your MagicPlates) to help you place the MagicPlate on your wireless phone, so that you can mount your phone on Scosche Qi wireless chargers, as well as regular MagicMounts.
Note for Apple® iPhone® 11 and Google® Pixel® 4 and Pixel 4XL users: Please apply the MagicPlate(s) either inside, or outside, of your phone case. Or, if you prefer, apply the MagicPatch to the outside of your case, but not directly to your phone.
* The MagicMount is not recommended with use of a wallet case.
Install MagicPlate
Includes options for mounting to a case or directly to your device.
Use the enclosed template to determine the optimum placement for your device.
Phone Plate
Easily removed without damaging your phone
---
Phone Case Plates
Securely sticks to your phone case
If you need replacement or additional MagicPlates order them here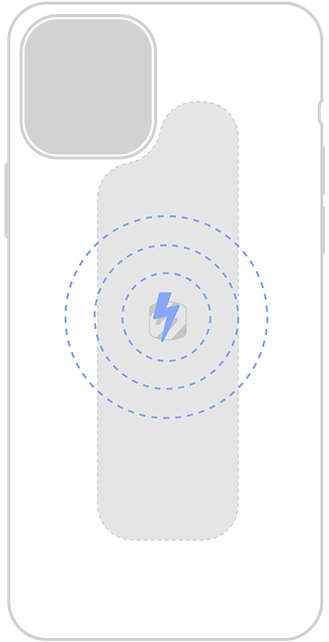 Phone Case Patch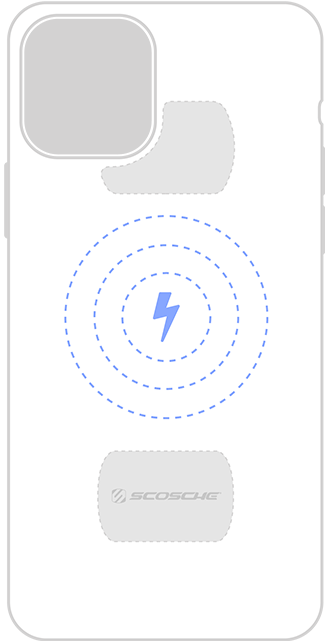 Phone Case Plates
Smart Phone
And other Wireless Charging Smartphones